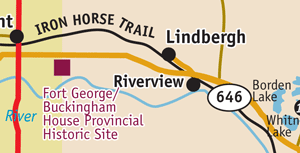 by Marvin Bjornstad
The history of the Lindbergh area goes back to the early 1800s when the factor of Fort Edmonton had a trail blazed north of the North Saskatchewan River from Edmonton to North Battleford, which then went on to Winnipeg. The area south of the river was disputed land for many tribes and the main source of buffalo. This trail became the Carlton trail and was used up to about 1900 when trains began to provide the main transportation on the prairies. The trail went from Onion lake past Ross Lake to the tiny area called Mooswa which had a telegraph station on the Dominion Telegraph Line. The NWMP patroled this trail on a regular basis.
The new province of Alberta was open for settlement and many early settlers floated down the river bringing many goods with them to set up their new farms. Some farming businesses in Lindbergh area started this way. Settlement also proceeded over many bad roads and isolated communities sprang up with just a post office, school and store and perhaps a community hall.
The coming of the railroad in 1927 effected the Lindbergh area immediately. The store and post office moved from Mooswa to Lindbergh and the tiny village began to grow. The income from working on the railroad also helped.
After WWII companies looking for oil and gas found some near the river and the Canadian Salt Company, with the settlement of Riverview, slowly emerged bringing more people to the area and providing a good source of off farm employment and new roads.
Much has changed in the Lindbergh area but it continues to prosper with a mix of employment from agriculture, salt and oil industries as well as service companies.