Fort Edmonton was founded shortly after Buckingham House and moved 5 times. 
Fort Edmonton was established on the Northern Saskatchewan River in 1795 by the Hudson's Bay Company as a fortified trading post next to the rival North West Company, which had earlier built its own fort nearby. After the amalgamation of the two companies in 1821, Fort Edmonton emerged as the leading centre of the Saskatchewan district fur trade.
The fort was rebuilt on higher ground in 1830 — after severe flooding — near the present-day Alberta legislature building. From 1826 to 1853 the fort thrived under the management of the colourful John Rowland and has been painted for posterity by Paul Kane (1846). After the Hudson's Bay Company surrendered Rupert's Land (1869-70), the fort gradually fell into decline and was dismantled in 1915.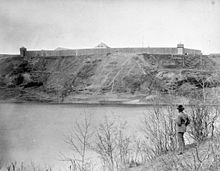 Fort Edmonton 1870