THE RIVERVIEW REVIEW
Saturday night, June 23rd, saw about 70 members of the Windsor Club enjoying themselves at a barbecue dinner and dance — steaks, cooking, and music supplied by members.
The next day, Sunday, was for the children, as they and their parents turned out in great numbers for the annual picnic. Fine weather, for once, helped to make the occasion a success. A refreshment booth satisfied hunger and thirst for old and young alike throughout the afternoon of races and games.
Salters spread all over the map during vacation season. Names and destinations: Tom McLennan and his family and Ron Seal and his family visited beautiful Ontario, while Alf Fakely took the gang to the Seattle World's Fair. A little more ambitious, Frank Reintjes and his family got as far as California. The J. D. Williams' visited Minnesota, and Gerald Bowlby and his family went to B.C. The Gessner family spent their holidays in Saskatchewan, and the Austins in Manitoba. Peace River was the end of the road for Edith Hodge, and also for Ross Carbert and Alex Wyness with their respective families.
All returning vacationers reported that they had enjoyed themselves immensely, and those at home were fortunate to have the help of Donna Petrosky, of Elk Point, who served as temporary during this period.
We're sorry to say goodbye to Ernie Belter, who has retired after 10 years, 3 months and 24 days (but who's counting?) with the company. Ernie was presented with a farewell present from the Windsor Club and the I.C.W.A. Local 474.
Congratulations and best wishes to newlyweds Mr. and Mrs. Neil Nelson.
We're glad to say that Linda Krissa, Mrs. Irene Anderson, Sally Crebas and Pat Maslak, have all recovered and are now out of hospital, and we wish a speedy recovery to Louis Grosso.
We were lucky to have the assistance of Faye Anderson, Leslie Austin, Marilyn Krissa and Helen Pasmore in the Packaging Department during the summer holiday season.
The travelling Reintjes' recently took their visitors from Holland, Mr. and Mrs. Steinhart, on a trip through Jasper and Banff.
The look of the parking lot changes almost every day. Times must be good. New cars from Ernie Schulz's VW "Jellybean" to Dan Allen's Cadillac. Between these extremes are new vehicles belonging to Howard Austin, E. Gessner, Joe Lacrosse, Dave Wyness, Fred McAleese and Tony Sheplawy.
The office staff will soon have more elbow room, as Edwin Nelson and Buck Eaton keep busy with their carpentry work on the office addition.
The rains this summer were the oftenest, the longest, and the wettest we've seen for a long time, and everyone is relieved that they seem finally to have stopped.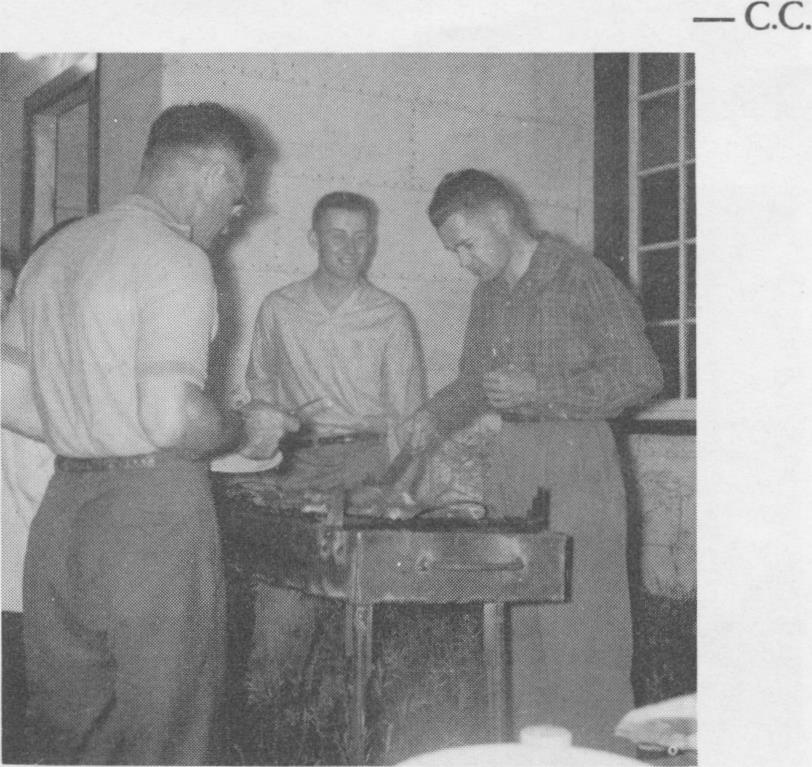 Frank Reintjes cooks a steak for George Krissa while Ross Carbert watches the cooking method.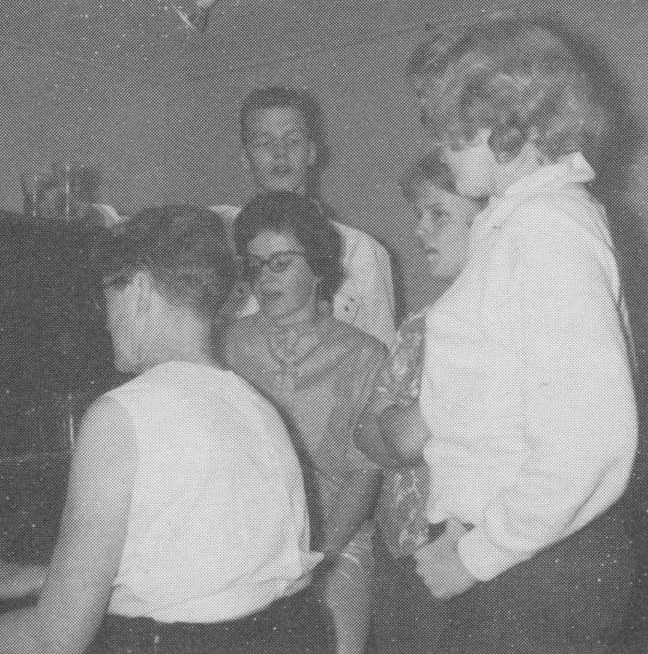 A sing-song at the barbecue party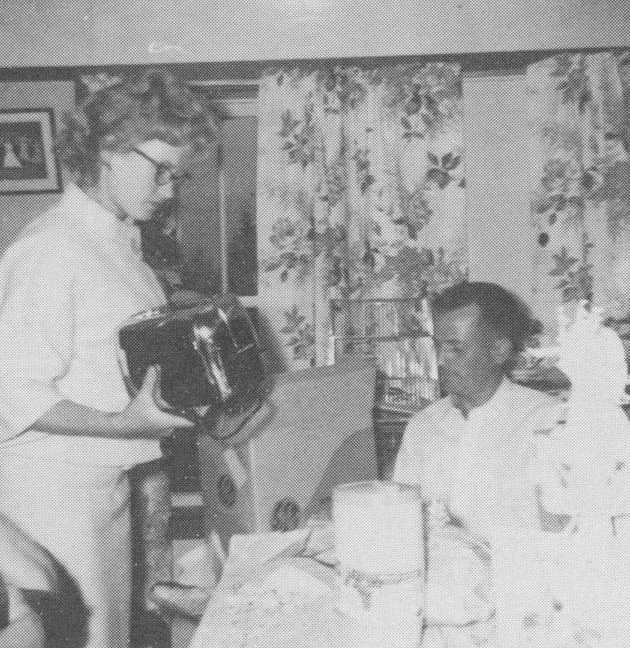 Newlyweds Mr. and Mrs. Neil Nelson look over gifts.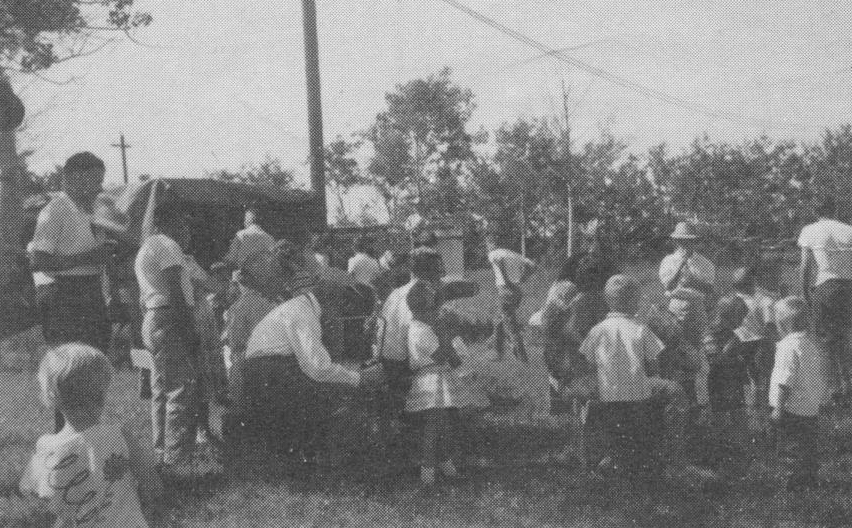 Part of the crowd at the children's picnic.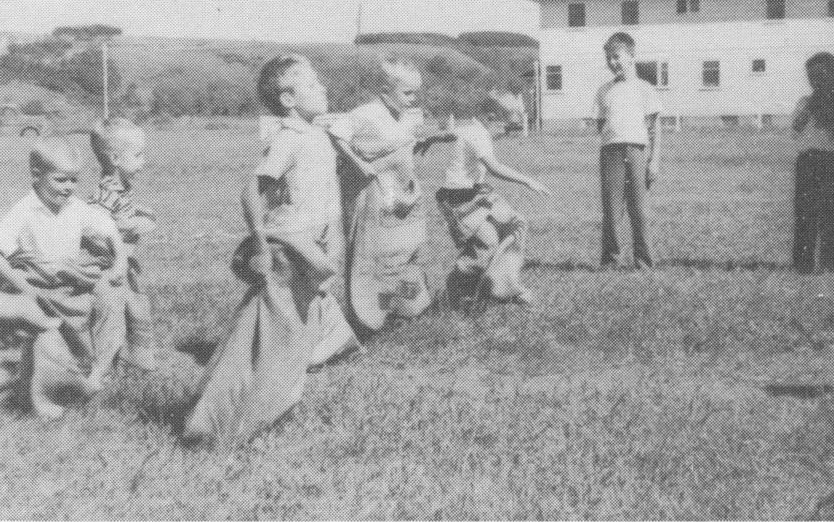 Small boys' sack race.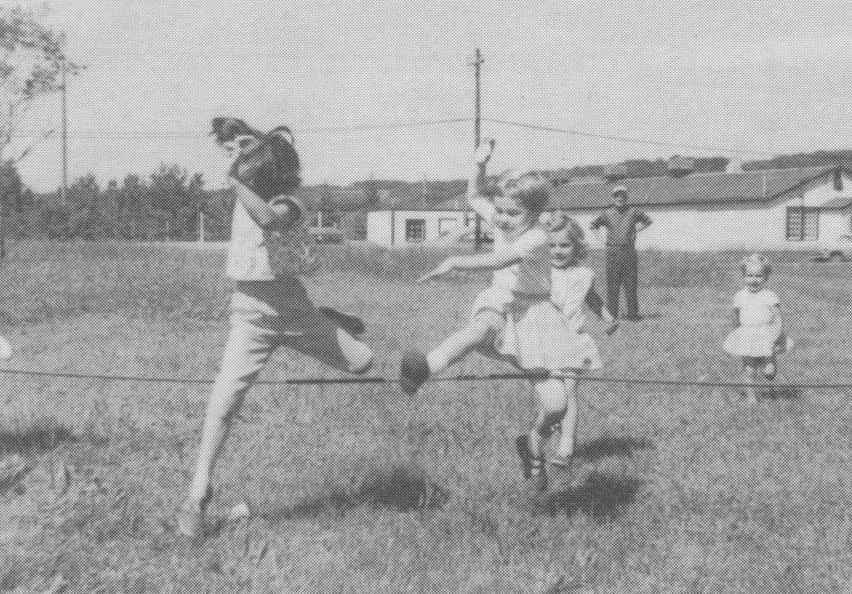 The finish of the small girl's race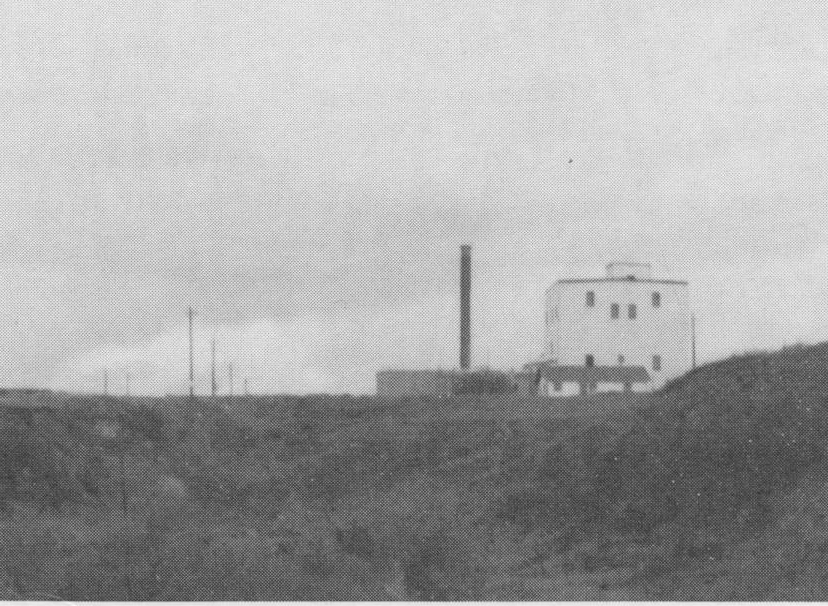 Aftermath of a 5-day rain in Mooswa Creek Valley.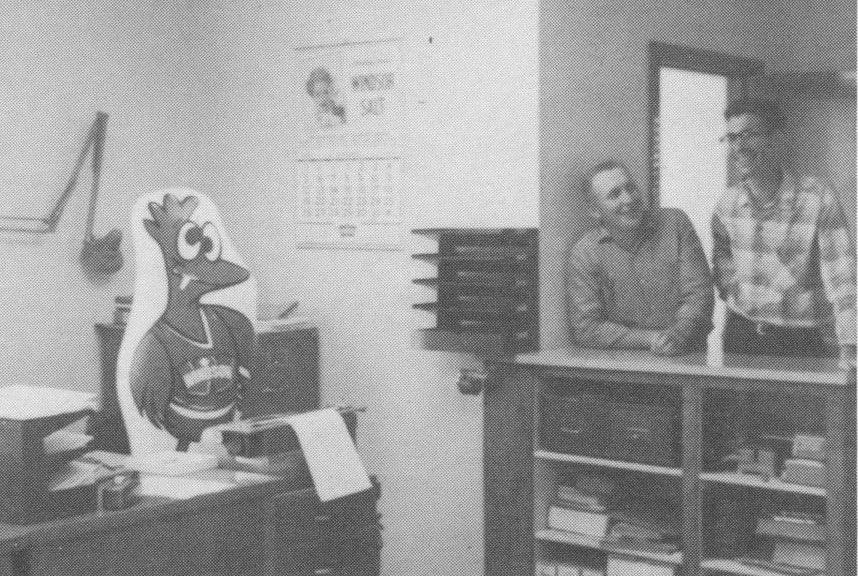 NIGEL takes a turn at the typewriter while Ed Pankiw
and Herb Wyness beam approvingly.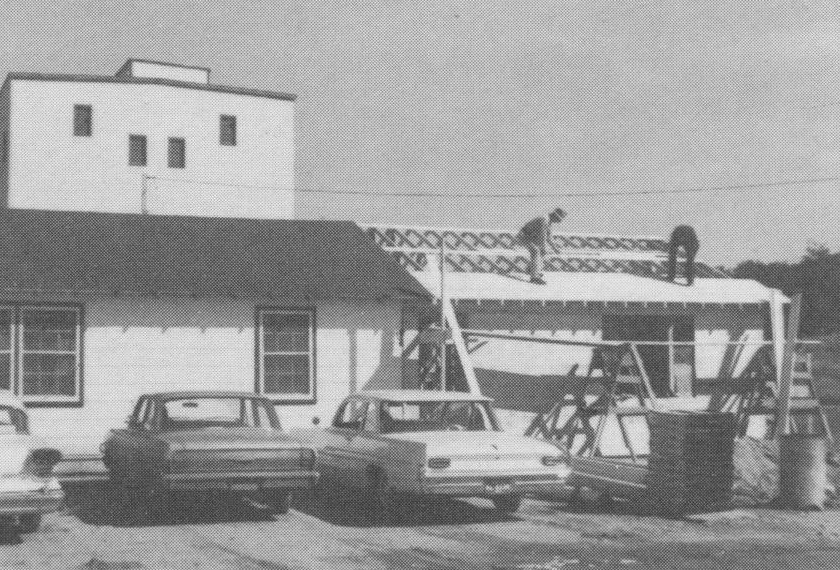 Construction of addition to office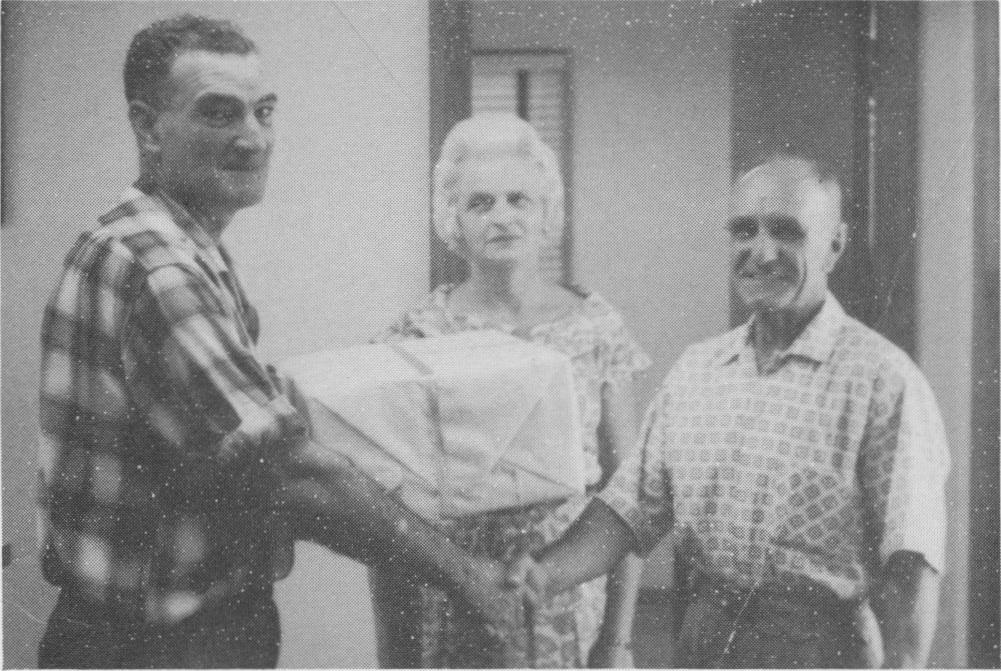 Ernie Belter receives retirement gift from Howard Austin.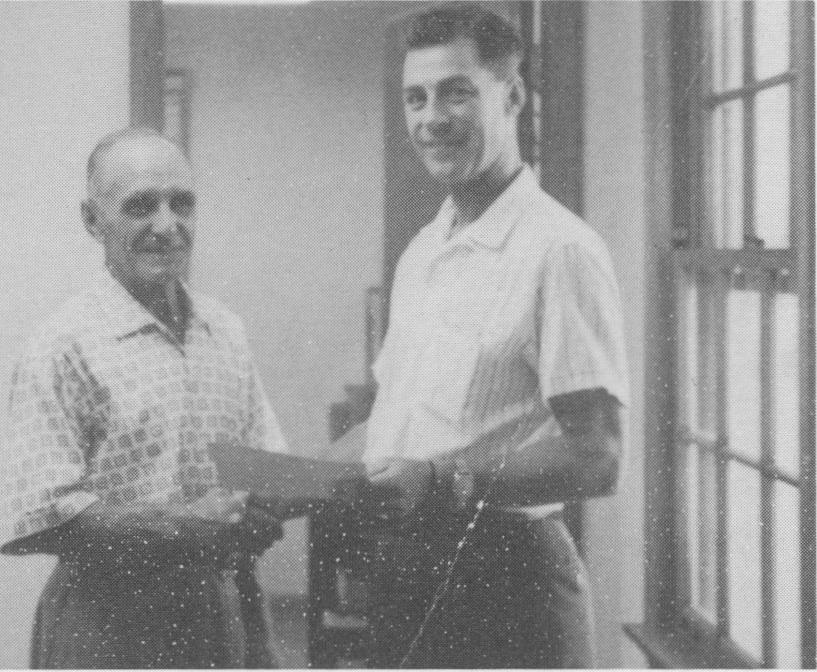 First pension check presented by Works Manager,
J. D. Williams to Ernie Better.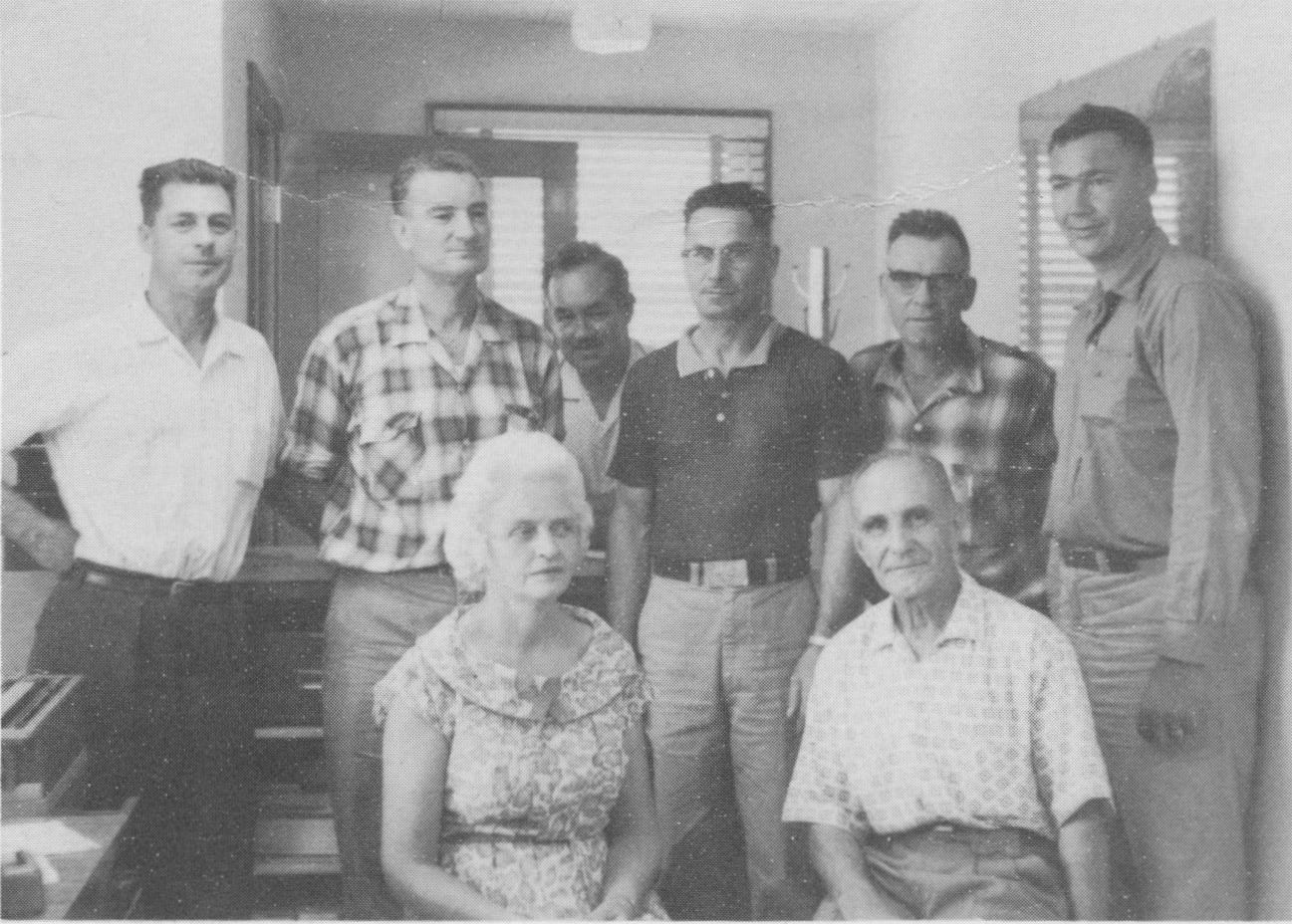 Mr. and Mrs. E. Better with J. D. Williams, Howard Austin, Tom McLennan, George Krissa, Alex Wyness and Marvin Bartee.