Lindbergh
Award of Commendation
The Lindbergh Facility has recieved a Safety laward from the National Safety Council. The Safety Award was earned for operating 331,170 employee-hours without a death or case involving days away from work from November 5, 1993 to Dece mb er 31, 1996 .
Congratulations are in order for the Lindbergh Facility. Since receiving the above award, we have now surpassed 400,000 lost time hours.
ALMOST 106 YEARS OF SERVICE
Orest Fedorus, Walter Lesyk and Alvin Meger were honoured at a retirement party on August 28, 1997. Between the three of them they have accumulated amost 106 years of service a t th e Lindbergh Facility.
Beginning alphabetically, Orest Robert Fedorus was born on March 2, 1934 at Hoselaw, Alberta. Orest furthered his education and obtained his Motor Mechanics Journeyman's Certificate. Prior to joining The Canadian Salt he operated a service station in Elk Point, with his brother Ollie, until 1974. Orest began his career with us as a Security Guard and then progressed to an Assistant Supervisor and then to Fuse Plant Supervisor. In 1981, Orest was promoted to Maintenance Supervisor, the position he held until retiring July 31, 1997 with just under 23 years of service.
Walter Lesyk was born on August 6, 1 932 at Myrnam , Alberta. Walter began working for us on May 7, 1 957 in th e bagging and loading department for the hourly wage of $1.26 per hour.  There are not many positions that Walter did not do while he was at Lindbergh. He ran the Block Press, Fuse Plant, and Pan Room until he began relief supervising in the fuse Plant and Pan Room. Walter was appointed Fuse Plant Foreman in November, 1974 and then to Pan Room Supervisor in July,  1975.  He  was  then  promoted  to Productio n Supervisor in November, 1980 where he continued until his retirement Au gust 31, 1997 after just over 40 year of service at the Lindbergh plant.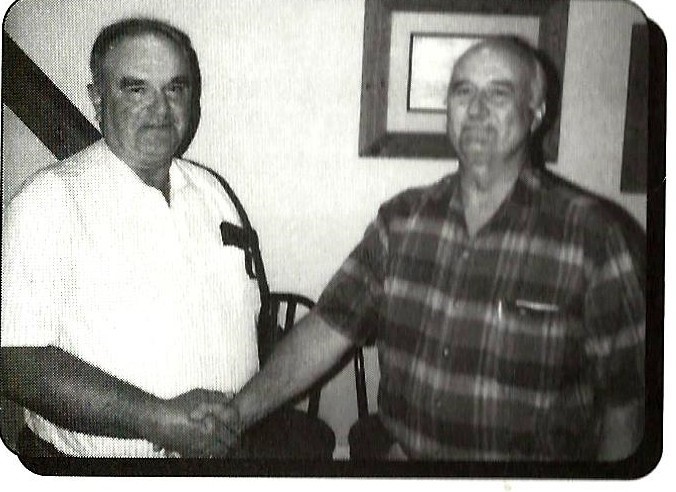 Ken Palamarek (right ) congradulating Walter (left) on retiring with over 40 year of service.
Alvin Richard Meger was born on July 18, 1934 at Biggar, Saskatchewan. Alvin farmed with his fath er in the Heinsburg are a before he began working for The Canadian Salt on June 11, 1954 as a Bagger at the rate of $1.10/hour. Alvin continued through the different classifications throughout the warehouse including Relief Shipping Foreman and acting Fuse Plant Supervisor. He was promoted to Fuse Plant Supervisor in August of 1969 then to Shipping Supervisor in August of 1970.
Alvin returned lo th e Fuse Plant Supervisor's position in 1983 until 1987 when he was promoted to Compacting Supervisor until 1990. Alvin rounded out his career in the Packaging Supervisor's position when he was very unfortunate in having a snow mobile accident injuring his hip and keeping him from work . Alvin was off work, due to his injured hip, until his retirement on January 31, 1997 after over 42.5 years of service with us. Orest, Walter and Alvin, on behalf of the staff at Lindbergh, we wish you and your families a prosperous and busy retirement as well as good health to go with it. Orest, Walter and Alvin, on behalf of the staff at Lindbergh, we wish you and your families a prosperous and busy retirement as well as good health to go with it.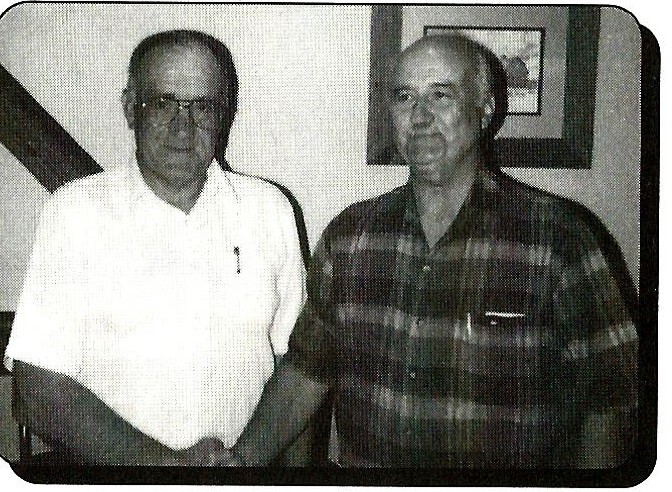 Ken Palamarek (right ) congratulating Alvin Meger (left ) on retiring after over 42.5 years of service.
Congratulations
to John Soldan, Safety & Security Officer, who received his five year service award on November 1, 1997.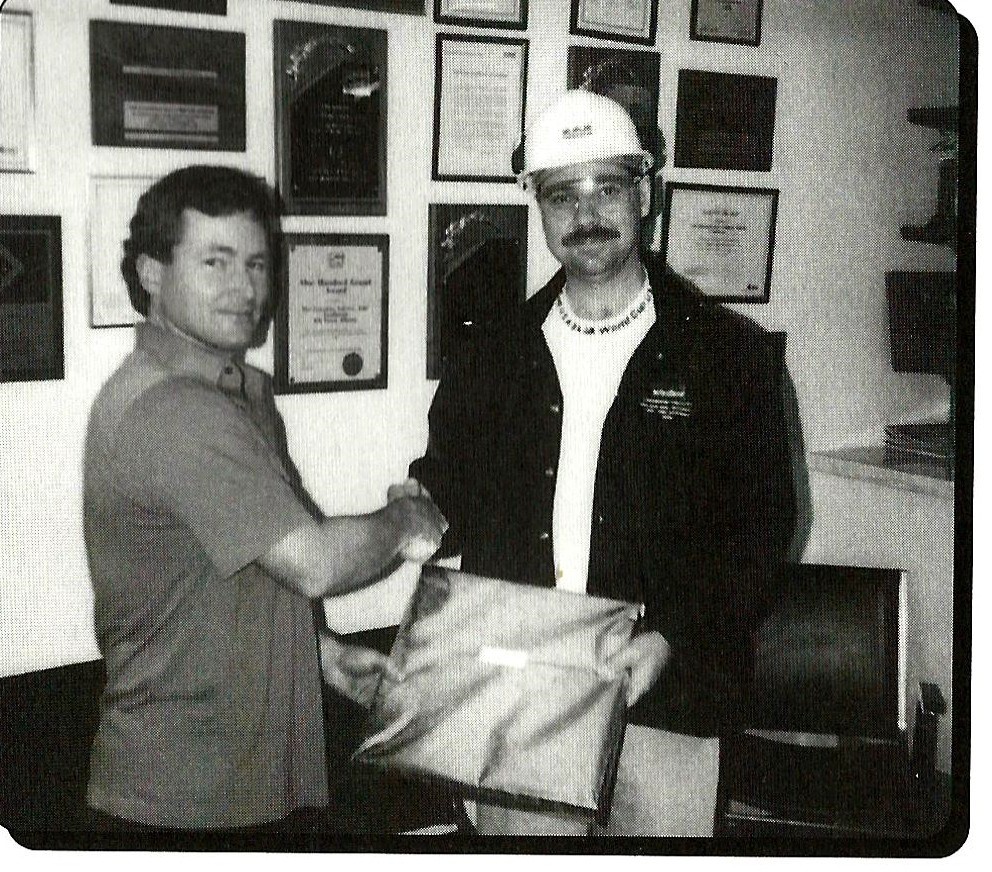 John Soldan (left) receives award and congratulations from Mike Metz
Congratulations to Shauna Campbell, Data Process Operator, who received her ten year award on July 28, 1997.

Tom Melnyk (left) presenting 10 year service award to Shauna