LINDBERGH
RECORD SNOWFALL FOR ALBERTA
While our counterparts in Toronto were experiencing 85° temperatures on April 20 and 21, 1985, we in Alberta were receiving the worst storm in thirty years. Record snowfall was experienced all around the Lindbergh area. Up to 45 cm of wet snow caused road closures and was blamed for five deaths in Alberta.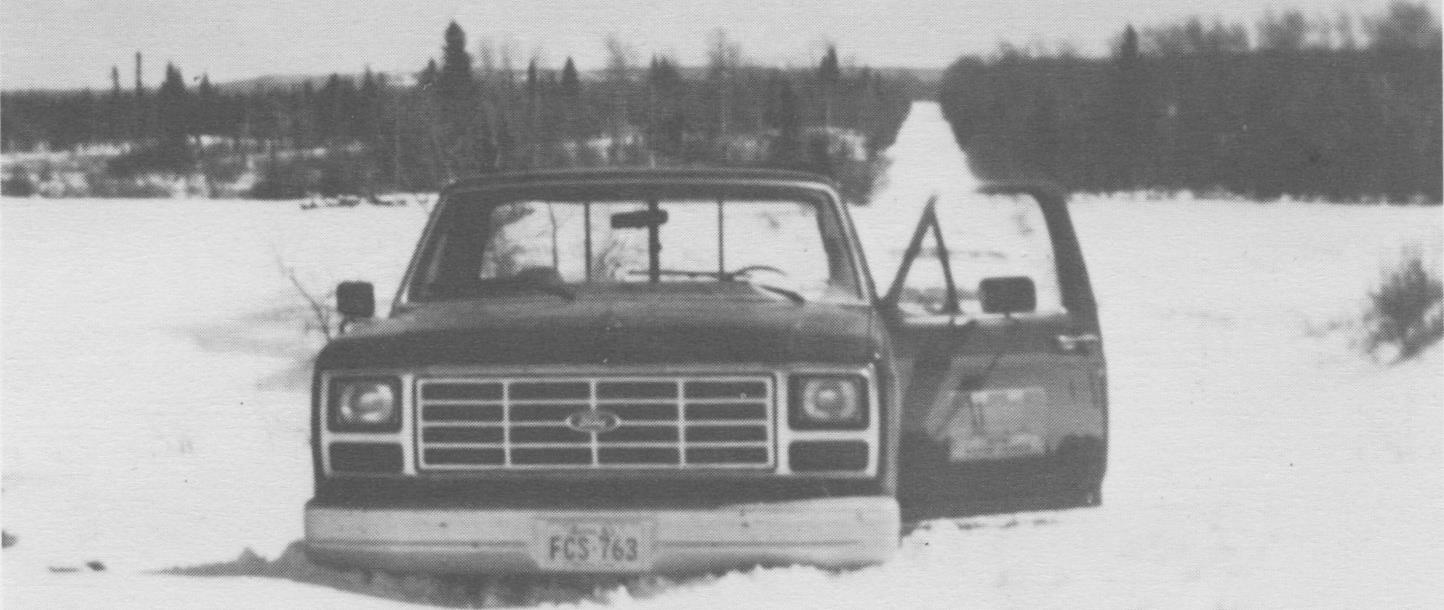 Gordon Fakeley, our Well Tender, couldn't believe the amount of snow around the well sites. Two days after the storm there was still plenty of snow at the well site, so Gordon took some snapshots to share with our sun burned Toronto colleagues.
CRIBBAGE TOURNAMENT
The winners of 31 local groups in the Windsor Club Regional Cribbage Tournament played off for the Chemical Workers trophy on Saturday, March 9, 1985. The winner was Barrie Young of Windsor Club 'B' Group.
CURLING WIND-UP
Winner of Mixed Bonspiel: Murray Babcock Rink.
Winner of Ladies Bonspiel: Pauline Scott rink.
Winner of Round Robin: Bobby Kinjerski rink.
SERVICE AWARDS
Mike Lotoski                                5 years                    April 14, 1985
Rosemary Vinge                          5 years                   May 5, 1985
Morris Irvine                               15 years                    March 10, 1985
Roy Radies                                15 years                    April 17, 1985
Lloyd Jenner                              20 years                   May 12, 1985
Marshel Pelech                          20 years                   May 17, 1985
Elmer Bjornstad                         30 years                    March 14, 1985
30 YEAR SERVICE AWARD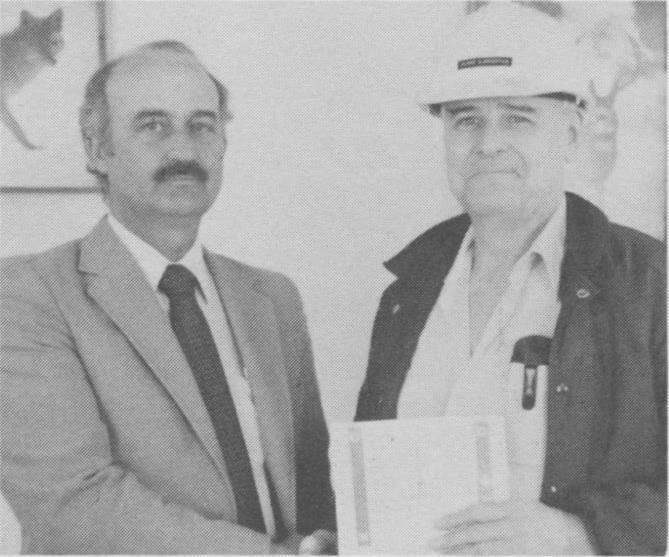 Elmer Bjornstad (Chief Engineer) shown receiving his 30 year award from Ken Palamarek (Plant Manager) (left).
Congratulations to Elmer Bjornstad on achieving 30 years of service. Elmer joined the Company in March 1955 as a Second Class Power Engineer. In 1959 Elmer was the youngest Power Engineer in Alberta to receive a First Class Permit and in October 1959 he was promoted to Chief Engineer.
Elmer, his wife Lenore, and children moved to the Townsite (company housing near the plant site) when Elmer joined our Company. Elmer and Lenore are very active in community service clubs and can always be relied upon to help with all projects.
Elmer remembers when it used to take an hour to drive to Elk Point (12 miles). "It was like going on a safari - you didn't know when or if you would arrive." Due to the poor roads, salt shipments were made by train until the mid- sixties when roads were improved. The main landmark back then was the 108' high steel derrick over #4 salt well - it was pulled down in 1958.
INTER-PLANT CURLING
Lindbergh had the pleasure of hosting the annual inter-plant curling spiel on March 17, 1985.
Representing Belle Plaine were Don Slater, Mery Buchanan, Rick Bay and Roger Henley. The Lindbergh team consisted of Wayne Hanson, Walter Lesyk, Elmer Bjornstad and Gary Gulayec.
The game remained very close with one point difference until the eighth end when Belle Plaine counted three which put the game out of reach for Lindbergh. Since 'close' only counts in horseshoes, the Kiel/Williams trophy was once again won by the Belle Plaine Team. Congratulations!!
STAFF CHANGES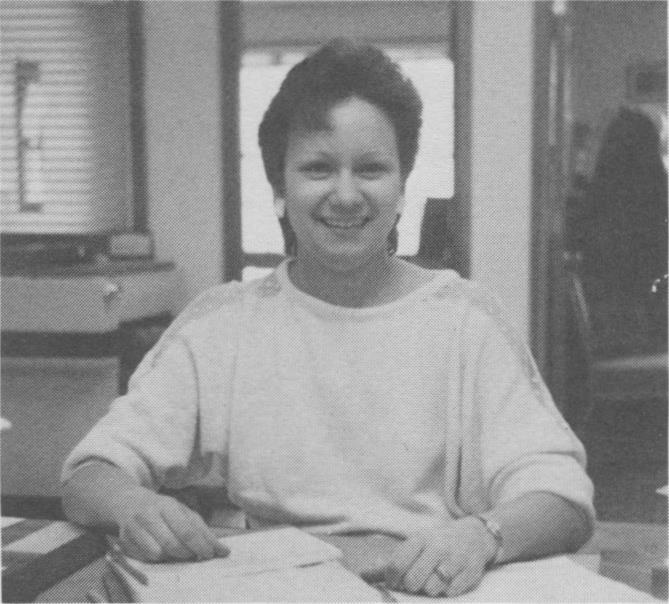 Connie Nelson has joined our Company on February 1st as a receptionist. She is replacing Darlene Arndt. Connie grew up on a farm in Vermilion, Alberta (approx. 40 miles from Elk Point). She attended Vermilion College in the Secretarial Arts program. We are pleased Connie has chosen Canadian Salt to begin her career.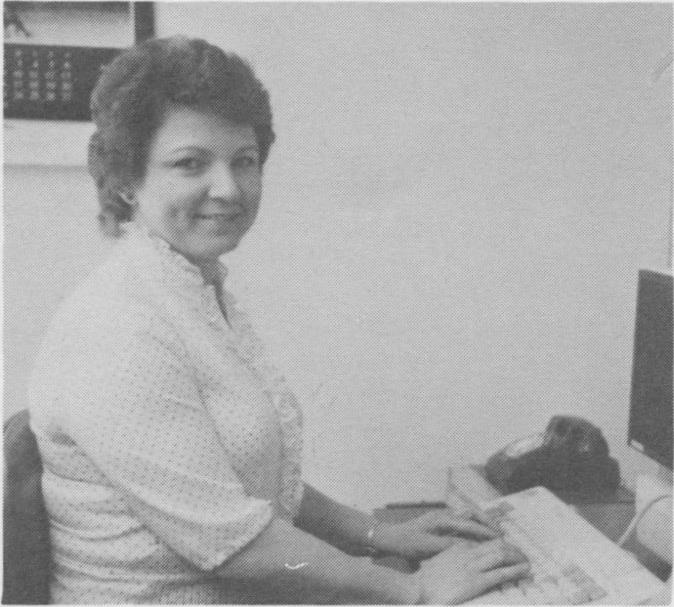 Lesia Porcina is replacing Fay Sommerville as of February 4th and is performing Data Entry. Lesia and her husband, Adolph, along with their three children reside in Elk Point. Lesia stays very active in the winter attending hockey games and Ukrainian dancing sessions with the children. She also enjoys decorating Ukrainian Easter eggs and sewing.
RETIREMENT PLAQUE
Ken Palamarek presented Nick Elaschuk with his Windsor Retirement Plaque. After 32 years of service, Nick retired November 27, 1984 and is thoroughly enjoying his retirement.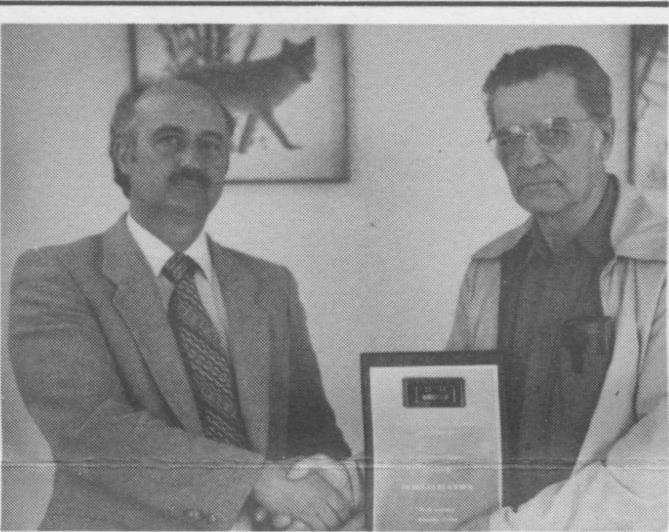 Nick Elaschuk (right) shown receiving his retirement plaque from Ken Palamarek.