RIVERVIEW REVUE
Greetings from the rice fields of Lindbergh! After about three inches of rain in the past few days, we are ready to set out rice plants.
Since last issue Lindbergh Works has been opened up for truck shipments. Joy, Joy! The first load was taken out by McMillan Transport on June 15 for Medicine Hat in spite of all the confusion. Judging by the crowd of spectators which gathered to witness this operation, it certainly will go down in history.
Since last issue our Ed Pankiw (time keeper) has quit smoking and started again about three times. (Tough battle isn't it Ed?)
We notice Herb Sutton sporting a new Volkswagon. Sure looks keen. Herb tells us he has to chase the girls away with a long stick since he acquired the new car.
Does anyone know if there is any law against printing currency in denominations of three and seven dollars? There are several interested persons in Lindbergh office — aren't there, boys!
We hear rumours that the Willow Range Bandit will be clicking his heels in front of the mahogany again.
Our T. R. McLennan is thinking of going into the poultry business. At least we hear that he is harbouring sparrows in his chimney.
Herb Wyness and family have been spending a few days visiting friends and relatives around Lindbergh.
Overheard in front office: "This filing system is nothing but an organized way of losing things."
FOR SALE: One set of greatly misrepresented Encyclopaedia — apply: E. H. Bjornstad.
A group of "auld Salts" gathered at Whitney Lake south beach last week for a weiner roast, to wish Lila Wilson a happy birthday.
The boys in the shipping department are having a big time learning to operate the new fork lift truck.
The winner of the Lindbergh Athletic Club car raffle was Ross Anderson, the same gentleman from whom the car was originally purchased. Hope this doesn't result in a congressional investigation.
Congratulations are extended to Jeanette Wyness who was the only student in her class to achieve Senior Matriculation. Jeanette we understand, will be entering the nursing profession.
We had the pleasure of a recent visit from Hammy Oliver, former chief engineer at Lindbergh Works. Sure was good to see him again.
We are happy to note that the Lindbergh Baseball Club took first prize at the local tournament. The boys really played a wonderful game.
The Company picnic was held this year on June 18th and for once the weatherman was most co-operative — sunshine and blue skies. An afternoon of races and games, with plenty of treats for young and old, was enjoyed by all.
We regret to report that Pat Maslak (pan operator) has been hospitalized for a few days. Hope to see you home soon, Pat.
Perhaps some of "ye auld Salts" recall a couple of years back when George Krissa was cornered by a Mule Deer while on a partridge hunt and had to shoot it with a .22 rifle in self-defense. Well, George is taking no chances this year; he has purchased a new 300 Savage. Those deer had better be careful whom they challenge this season.   -- G.C.C.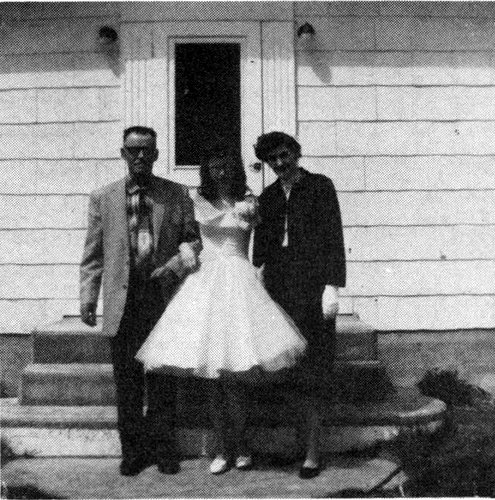 Jeanette Wyness with her parents, taken on graduation day.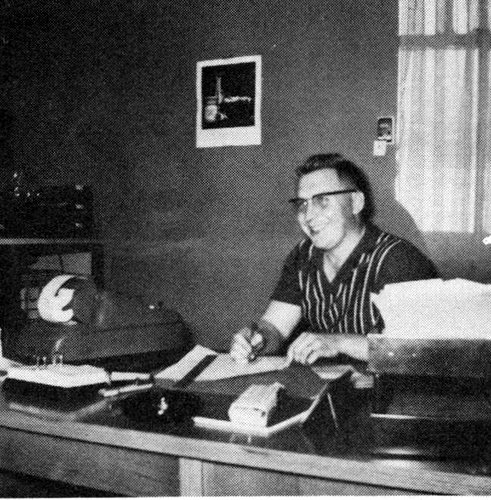 Ed. Pankiw, timekeeper.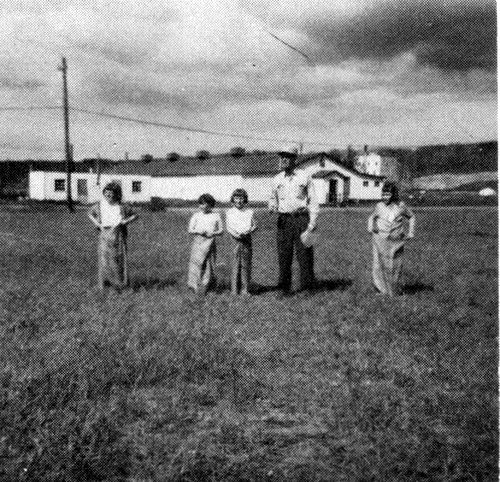 Alex Wyness, getting the juniors ready for the sack race at the Lindbergh picnic.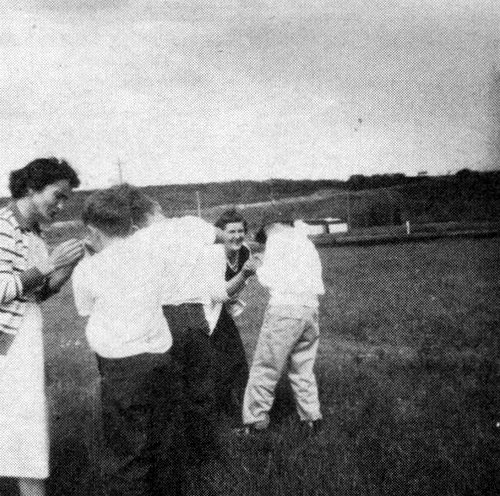 Mothers and sons in the needle and thread race.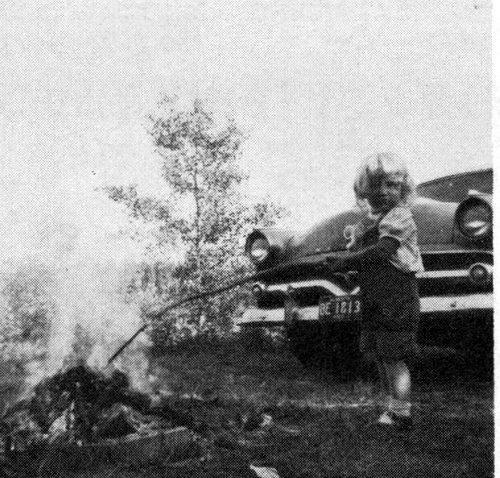 Young Camper, Georgina Cundliffe.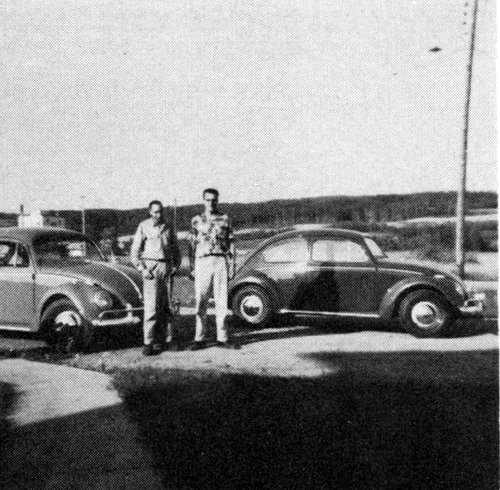 Roy Kendall and Herb Sutton (Lindbergh Volkswagon Patrol).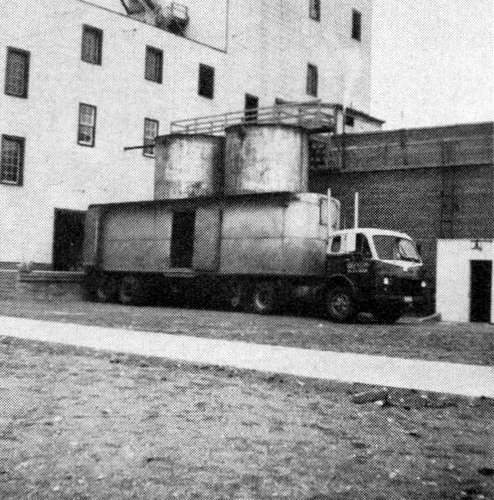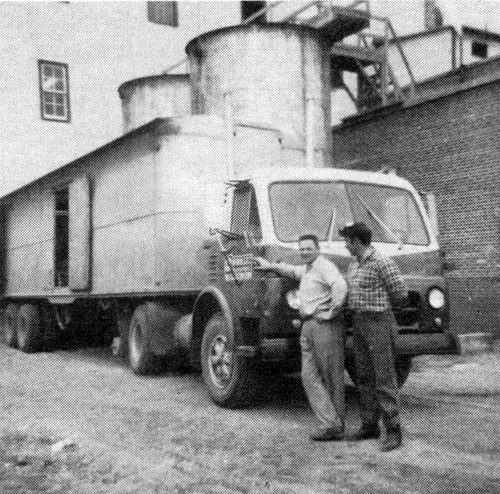 First truck loaded out of Lindbergh Works.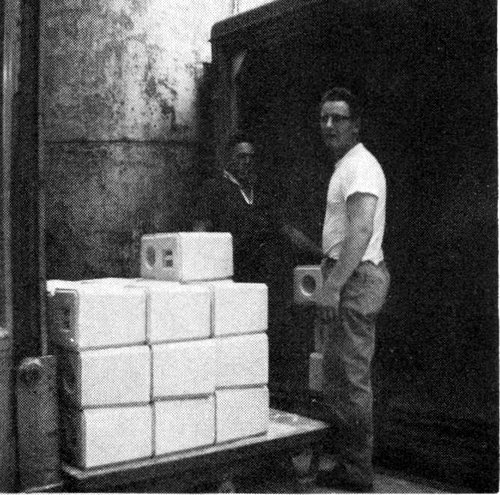 George Anderson and Doug Keck loading first truck.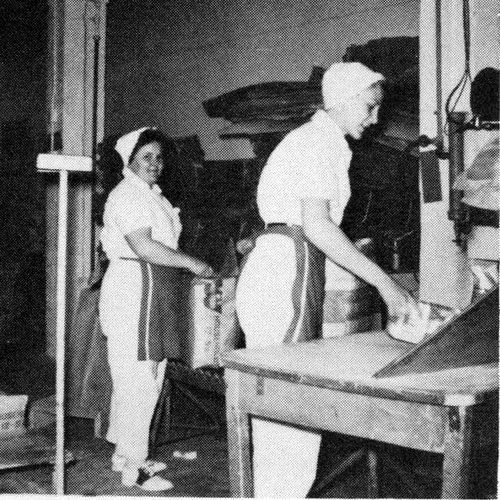 Edith Hodge and Lila Wilson, packing household pockets.