RIVERVIEW NEWS
We were sorry to say goodbye to Henrietta Keck who left the Company on November 30, 1961. She was given a lamp as a gift. Deanna Nelson has taken Henrietta's place with the girls in the packaging department.
John Zaraska left the employment of the Company on the 20th of December.
The Children's Christmas party on December 15 was a well-attended affair with a visit from Santa Claus to top off the festivities. A vote of thanks is due Erny Schulz and John Snyder for their efforts in directing the children's carol singing.
The Adults Party on December 16 started off with a potluck supper which turned up some tasty dishes. This was followed by a round of carol singing by the musical section of the crowd and ended up with a dance. Musicians in attendance were plentiful enough to allow them to take turns playing. Vocals by Irene Anderson, Grace Meger and a solo by Gordon Wilson helped to make the party enjoyable to all.
Herb and Arlene Wyness and family were out from the city for the holidays. Their friends were happy to receive their telephoned greetings and will return the compliment at the first opportunity.
Curling is again in full swing, and from the enthusiasm it would appear that if you don't curl, you have rocks in your head. The annual Windsor Club Bonspiel is a continuing success and rinks from some distance away attend regularly. This year's 'Spiel from February 7-10 will receive full coverage in the next issue of the Licks.
The Annual Windsor Club Cribbage Tournament, started last year, has increased in popularity this year — there is a tournament going on in Spring Park and another at Elk Point. The winners will play off here on March 7, 1962.
The Windsor Club outfitted the boys' hockey team with new sweaters — the kids seem to like the color scheme and the idea fine. It gave them enough lift to beat Elk Point, anyway.
Friends and neighbors of Mr. and Mrs. Ed Pankiw treated them to an enjoyable house-warming party.
We see Frans Kerklaan driving a new station wagon these days — looks very nice.
The safety prizes for our 7-year no lost-time accident record have arrived. They should give everyone something to remember as we work towards an 8-year record.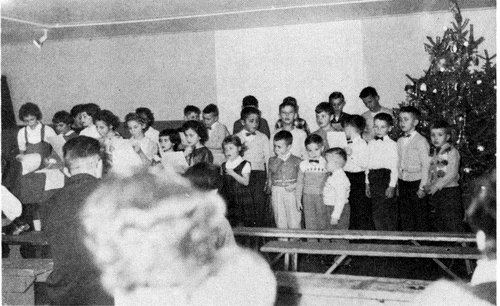 Group singing at the children's Christmas party.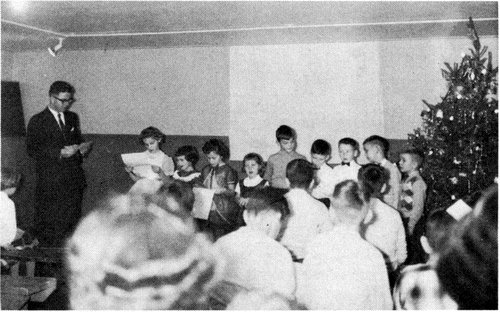 John Snyder leads a children's group in singing carols.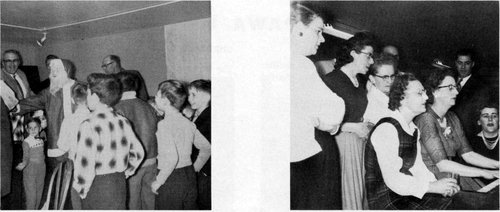 Left: Santa giving out gifts. The three oversized elves helping are: Ron Seal, Tom Melnyk and Gerald Stults.                                             
Right: Group of carollers at the Adults Party. Mrs. Bjornstad, Mrs. Austin, Mrs. Stults, Mrs. Maslak, Mrs. Williams, Mr. Williams, Mrs. Anderson.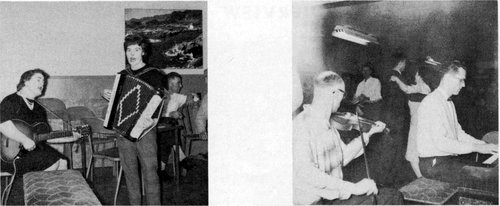 Left: Mrs. Anderson and Mrs. Meger make with the music while Joe Jendruck and Augie Bartling discuss business.  Right: Gerald Stults and Herb Sutton provide the dancers with soft (?) music.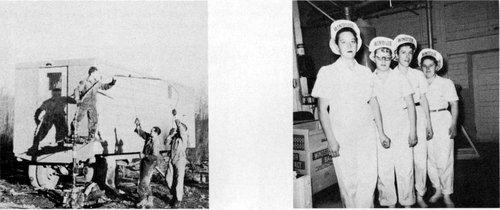 Left: Putting perforating gun into 11-11 gas well. The small linked charges are set off to perforate casing to start gas flow.
Right: The girls in the packaging department pose on Henrietta's last shift.