PROFILE
Harry Grauman, Lindbergh Fuse Plant
by Joan Darling
Harry Grauman, number one on Lindbergh Works Seniority list, has been with the plant since June 1, 1948. He was born on May 28, 1907 and was raised on a farm at Clandonald, Alberta. Harry went to Grade eight in school, and it was during those years he served the only military service of his life in those imaginary "Indian wars" when he was a kid. It was also during those years that he was called "The Home Run King" by the baseball fans in Clandonald and Dewberry. His great interest in Baseball and Hockey makes him a great fan of the New York Mets and the Toronto Maple Leafs.
In 1926, Harry started farming for himself ; and during the winters he hauled railroad ties and logs with a 4 horse team in Edson, Alberta and British Columbia.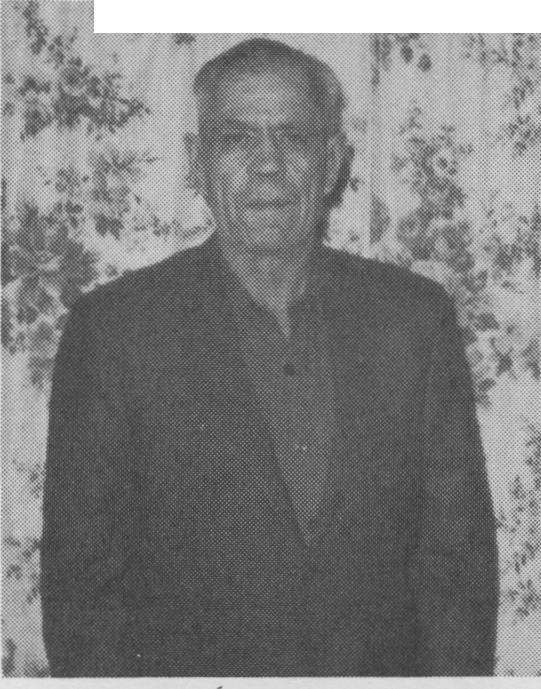 HARRY GRAUMAN
He was married in December, 1934. Harry and his wife, Lillian, had 4 children — one who died as an infant. Their two daughters, Carmelita and Delphine are married. Their son, Russell, is still at school.
Harry was hired at the Plant originally as a loader and one year later he helped build the fuse plant and operated it for one year. Then he spent 41/2 years as pump man in the pan room. The remainder of his time here has been spent in the fuse plant.
Harry is a very proud Grandfather of 11, soon to be 12. His older grandsons — Reggie, Richard, Randy Young have been competing all over Alberta in the boxing ring. Also from 27 candidates—those three were picked to play baseball in Edmonton. His younger grandchildren are so far still at the "Grandpa can I have a cookie ?" stage.
Harry experienced the sad loss of his wife in July 1971.
Taxes — says Harry — are necessary to run the country. If we want things nice we have to help pay for them. When asked his view on sex — he said, "that's easy, the Lord had to do something to keep the male and female together. It is the Foundation of all humanity." And on the lighter note he had a little story to prove his theory. The story went:
A man, his wife and 4 children lived in the isolated north, and spend most of their time fighting and quarreling. Finally the man had had enough so he picked up his knapsack and his rifle and shoved off down the river in his canoe. The wife was beside herself with worry. She ran alongside the bank and yelled "What will I do with the cows?" He shouted back "Let them go dry I don't care." She kept running and hollered "What will I do with tlie kids." He answered "You can drown them for all I care." She kept running and finally she dropped her mini skirt. She yelled, "What will I do with me?" The man turned the canoe towards shore and said, "Someday I'am going to leave that woman!!!
Harry doesn't think there really is a generation gap. He thinks we all went through the same thing, but dope is going a little too far. He feels that each generation is finding things a bit easier. He doesn't like to see U.S. spending in Canada being knocked. "We are making money too and if they didn't invest, we couldn't afford it ourselves. Their money is helping us too ! !"
Harry retired in June 1971 and hopes to live long enough to spend some time holidaying on the moon if the possibility ever arises. He is very interested in space travel.
After his retirement, he spent a month with his daughter in Fort McMurray, 2 weeks in Edmonton, 2 weeks in Vermilion and some time in Dewberry.
After that he will settle down somewhere and enjoy his new hobby that he is finding very interesting — the art of collecting and polishing rocks.