"LINDBERGH IN THE LIMELIGHT"
THE ANNUAL COMPANY PICNIC was held at the South Beach of Whitney Lake on June 25th with a large crowd of Company employees and their families in attendance. Races were held for both young and old and proved to some of the youngsters that their Mom's and Dad's aren't so old after all! Pop, Ice cream and hot dogs were served by the ladies between races.
Twe Horton had his speed boat at the lake and gave some of the picnicers tides and even let some of us solo. That, I am inclined to believe, is the sport from which the saying "fling low" comes — at least one of our employees tried to prove it. Pat (alias 10 horse Johnson) must have been one surprised man to find himself sitting about 10 feet up on shore! Next time try an airplane Pat — boats just don't make good airplanes!
After everyone had had their fill of speedboat racing, a ball game ( women versus men) was held with the men coming out on top — we won't say how far out on top however!
After more pop and hot dogs everyone drifted homewards and all declared it a wonderful picnic!
CONGRATULATIONS to Augie Bartling, block press operator, who received his 5 year pin June 8th!
GOOD-BYES WERE SAID to Mr. and Mrs. 0. H. Bowen (Shift Engineer) who left the townsite on July 29th. The ladies held a farewell party for Mrs. Bowen and presented her with a cup and saucer and the men presented Mr. Bowen with a pen and pencil set. Mr. and Mrs. Bowen will make their home in Edmonton.
WE EXTEND A HEARTY WELCOME to Mr. H. Oliver ( Hammy) new Chief Engineer who joined us on July 1st. At present Mr. Oliver is in residence at the Staff House but will move into his own home as soon as Mrs. Oliver joins him.
CUPID HAS BEEN AROUND again — this time around the girls packaging Dept. Best of luck gals!
ART ROBINSON ON LOAN from Windsor Works has left us to go back to the East. Before he left we decided to show Art some real wild West cowboys and give him an idea of what the West is really like. Well after miles and miles of roads (Roads!!?? ) we finally arrived — I forgot to mention — our destination was a real honest to goodness branding party. Of course we arrived too late for the work— but we did arrive for the festivities—it's remarkable how musical a couple of tin pails can sound miles from anywhere! After a feed of barbecued steer we left for home! I'm sure Art will remember his visit to the wild west for some time!
THE WEST COAST seems to be the favorite vacation spot for Lindbergh Works employees this year. Most of our employees have returned from the holidays — all reporting a wonderful time and wonderful weather!
A NOTE FROM Irene Anderson to Dick Rowat — since the blueberries aren't very good this year we won't be able to make any blueberry pie — however we now have a new recipe — raspberries and blueberries. Any suggestions as to a name!
Dick to Irene: Make Mine Braspberry!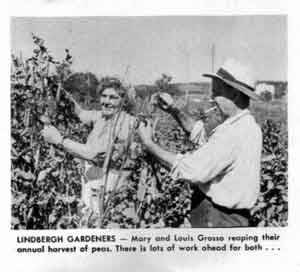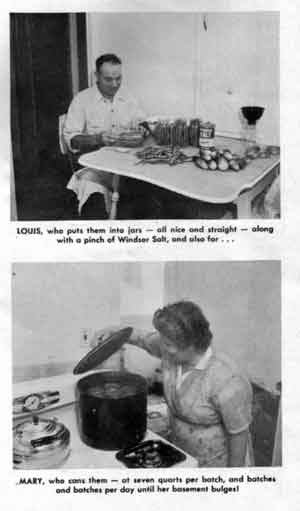 OUR NEW WATER STORAGE TANK has been painted silver and black with a bit of red trimming. This has made a vast improvement to our plant grounds and along with the other painting that has been done really gives our plant that "well groomed" look.
AT LAST REPORT FROM Chief Engineer Oliver the weeds in his garden are holding their own!
TWO OF OUR TOWNSITE RESIDENTS, L. Grosso and E. Bjornstad have declared war on all moles and gophers. To date their catch has been 4 moles and 2 gophers! Not bad — but are you sure that those two-legged tracks are made by four-legged gophers?
WE EXTEND OUR SYMPATHIES to Marvin Bartee on the death of his young son and also to Ed Dendera on the death of his son.