Let's Listen to Lindbergh
The Cascade Community Club sponsored a Whist Party at the Staff House recreation room, and, according to reports, it was a great success. Lunch was served by the ladies, and a Mystery Box was raffled and won by Mr. Sills, who made an auction sale of the thing — for charity purposes only!
R. W. Storey received his 5-year Pin Award and a sincere handshake from Mr. Sills on March 1st. Congratulations, Ralph, and we know you'll continue to do your job equally well during the next five years.
Larry Gray bought a brand-new hat, handed out cigars and chocolates and visited all his friends in the neighborhood, offering liquid refreshment. And the reason for Larry's strange behaviour? "Joy — Joy, It's a Boy!" — name of Terence Zane. Congratulations, Doreen and Larry!
A week or so later, George Krissa was all smiles one morning. And justly so; for his wife, Maude, had presented him with a brand-new baby boy — with a name tag that said to call him "James George".
And in due course Henry Seiler followed suit and entered the rank of new fathers. Little Margaret Bernice and her Mummy have been home for a week now and are doing very nicely, thank you.

After 51/2 years of service in the packaging department, Steffie McLennan bade us farewell on March 31st, to devote her time to Tommy and housekeeping. There was a bit of a party for her, as well as for Herby Wyness, Anne Zarowny and Bernice Swanson — all of whom left to seek adventure elsewhere. Herby joined the RCAF, Anne went to the Lakeof-the-Woods resort district as a "Cabin Girl", while Bernice, who tired of typing, decided to try her hand on people's teeth and joined the staff of an Edmonton dentist. All received fitting farewell gifts from the gang at the plant, who wished them the very best.
A hearty welcome is extended by all to our new Chief Engineer T. 0. Davidson, who joined our Company on April 5th, 1954. The "Chief" is at present living bachelor style in the staff house. His wife and daughter ( and pooch) visited him during the Easter Holidays. They liked the place so well that, by about the middle of June or so, they'll come and live with us out here permanently.
Another New-comer is Elsie Lemecka, who joined our "Paper Pocket Packers" in the packaging department. But she is doing O.K. on two-pound rounds, too. To watch her toss the cases around, you'd think they were empty! "Welcome Elsie" — and may you enjoy your work with us.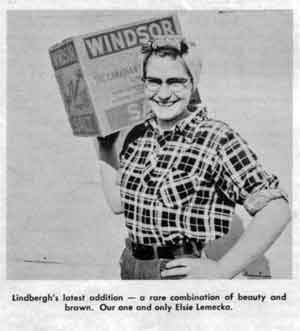 We almost forgot to report that a party was held in the staff house on March 25th, when one of our shift engineers, Harold Swanson, bade us farewell. Harold was presented with a travel-alarm clock, a gift from his fellow-employees, together with best wishes from everyone present. There was dancing to the music of Augie Bartling, Clarence Boos and Twe Horton until we don't know when, because we were tired and went to bed long before the others did.
Editorial Note: All praise to Herb Sills, who sent us the Lindbergh copy while under difficulties. Herb has the stuff of great newspapermen in him, for he was 'flu-bound at the time: in fact, as he says, "Flu had either me or some member of my family hospitalized or at least bedridden for the past six weeks." Herb adds that Tommy McLennan typed the copy (with three fingers), while he himself dictated. As every correspondent of SALT LICKS says: "The copy must go through".