RIVERVIEW NEWS
Soon after receiving our copy of Lix, each correspondent receives a letter from our Dear Friend, Mr. Editor, which goes on something like—lots of available space, trust you'll fill it up, etc. So we go to work and sweat it out over the typewriter, stir up what little gray matter is left after a hard day's work, come up with what we hope is news and interesting, and above all try our durndest to get it to Montreal on time. S000 what happens?? We get the next issue of Lix and — Sure 'nuff, he did it again! Cuttin' out on us all the time. Bet two bits the above gets cut out, eh?
Oh, to be an editor!
June and July seemed our time for visitors. Don Hyland favoured us with a visit on June 30th. Sure were glad to see him, as we've had a dry summer and the rain really followed Don around. Didn't fail him in Lindbergh either. Sorry if it spoiled your trip Don, but we sure were glad to get rain. Only fault we found in Don's visit was that he didn't stay long enough.
Jack Mair and Bert Ayres arrived here on July 8th and were still here when we were invaded on the 10th. Don Lumby and sales staff, plus a few extras, arrived in full force. Among them were Jack Hanna, Reg Hooper ( we don't mind this 'un cuz we're used to him ), The Mayor of Saskatoon (Ken Scharf) and chauffeur, Cliff Porter, John Nimmo (Transferred), and last but certainly not least, "The Rajah of Midnapore" (Ben Souter). A Sales Meeting was held at the staff, was followed by a golf tournament on the lawn. Sure didn't look like golf to me, but I know that Jack Mair and Reg Hooper took most of the money.
This is the first year for some time that it hasn't rained on the day of our picnic. To make it more interesting for the kiddies, we bought prizes rather than give them money. The nice weather really brought out more families this year than, have attended for a few years. The tugs of war and races over, the kiddies made one bee line for the booth, which was loaded with hot dogs, pop and ice cream (not for long ). After all were filled to capacity, the big ball games were on, the fathers played the young boys, who not only played them out, but also beat them 11-9. The next gaine was between the young girls and mothers. Here things were a little different, but if it wasn't for homerun hitting Lilly Seal, I believe the young girls would have had this game. After an activity-packed afternoon, we were served lunch and hot coffee in the recreation building.
The Pony League Baseball Team have their new uniforms, and a smart looking team it is. The first game they had in full dress, some of the young men were up and fully dressed ( in uniform) at 6:45 A.M.
The tennis court is completed at last and the younger set on the townsite takes to it like ducks to water. Going to have some good players in a few years. For us older ones, well its kind of hard on you when trying to move as fast as the game demands. In spite of the effort it takes we sure do like it. S.P.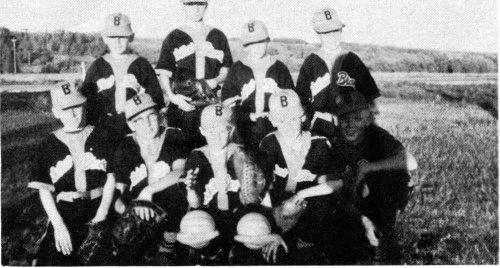 Riverview Braves in full dress. Standing from left to right, are
Ricky Lorenson, Ronnie Lorenson, Burton Anderson, and Donnie
Wyness. Seated are, Butch Wyness, Ronnie Sheplawy, Dwain
Young, David Wyness, and Jummy Young.

1. One half of the semi-final Ping Pong Tournament. Sorry we couldn't bring you the finals between Jack Mair and Cliff Porter. Jack
was the grand champion.
2. John Nimmo and Bert Ayres battle it out for the semi-final position. Reg Hooper and Jack Hannah are indulging in side bets
while Keith Williams keenly watches the contest.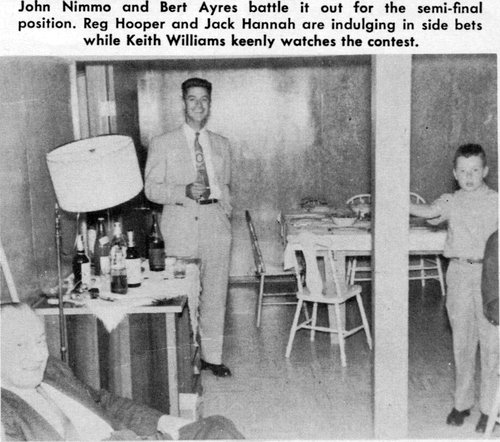 Don Lumby and John Williams seem well pleased with proceedings.
Keith Williams looks on with amazement.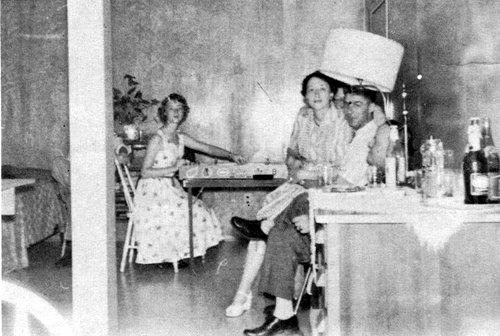 The hosts for the production sales meeting at Lindbergh, Mr. and Mrs. Williams and Gayle.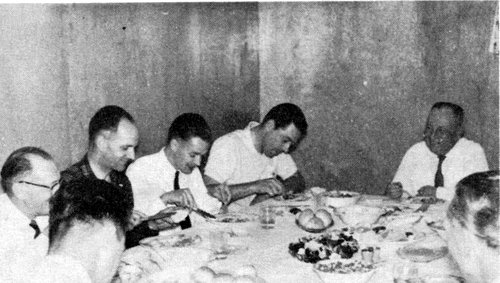 The race is on. Sales are trying to outdo production in putting on
the feed bag. From the looks of the picture, sales is winning since
they out number production. All enjoyed the turkey dinner. L. to R.
J. Williams (Back to camera), Ben Souter, Reg Hooper, Frank
Reintjes, Jack Hannah, Don Lumby, and Bert Ayres.

1. The Lindberg or Lindbergh Union Station. Don Lumby, Jack Hannah and Ben Souter are waiting for THE BULLET to haul away the salt.
2. The great Hockey Match. Mrs. Reintjes and Gayle Williams battle to the finish.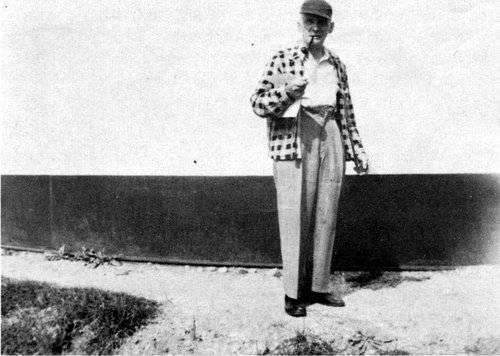 The dignified looking gentleman crossing on gopher territory by
the water tank is Hammy Oliver, (Chief Engineer).
Baseball Coach (Herb Wyness) doing a little road work.
SUSAN, WHERE ART THOU?
Oh! The spelling is atrocious, But the typist's not at fault, For our Susie's on vacation
From this business making Salt.
So we'll have to change typewriters And get one that spells aright
Then the boys will stop their swearing Join the church and see the light.
Now, take Cal, he's near perfection As he taps each little key
And his ninety words a minute Is a pleasure for to see.
Yes, the carriage travels swiftly
And it rings the little bell,
But it worries Mister Cunliffe
'Cause the damned thing cannot spell.
Then there's Mister Herbie Wyness, He has never much to say,
For he's busy on the payroll
Each and every working day.
But he also does some typing
And he has the same complaint,
He may get a harp and halo
But he'll never be a Saint.
The genial office boss himself,
( a two three finger man ),
Has a normal disposition
That's akin to "Singin' Sam".
But mis-spell-typeritis
Comes upon him with a rush,
Then the language that he uses
It would make a salesman blush.
You have heard him say "Bend over!",
"It's ashamed you ought to be,"
And he lectures you on spelling
All for little and for free.
But he learned when you were absent
That it isn't all your fault
For those pesky keys won't function
When corroded up with "Salt".
So you see, they miss you, Susie,
Though they won't admit it's so,
For their vanity and typing
Has received a sorry blow.
So in future when they're kicking
Bout a word you cannot spell
You can chew your gum and tell them,
"You can all go plumb to Hell."
H. Oliver,   Chief Engineer, Lindbergh.