Windsor Honors Bert Ayres
By Clarence Marentette
Bert Ayres, Works Manager at Windsor, retired from the Company 31 December, 1974 after 27 years of service.
Bert started with the Alberta Salt Company on 1 September, 1947. At that time he was in charge of the construction of the Lindbergh Plant and Town Site. He officially became a member of The Canadian Salt Company family on 1 April, 1951, when the Company was reorganized and purchased the Lindbergh Plant from the Alberta Salt Company and the Neepawa Plant and the Windsor Plant from C.I.L.
He remained at Lindbergh until 1953 when he was promoted and transferred to Neepawa as Production Manager for Western Operations. He was appointed Works Manager at Windsor 11 May, 1959.
Bert enjoys many hobbies and interests including Golf, Curling, Photography, and travelling. He and his wife, Winnifred, have a daughter Luanne who has presented the proud grandparents with three grandchildren, one boy and two girls ranging from three to seven years of age.
Several events took place in Windsor to honour Bert Ayers.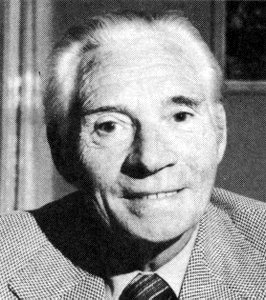 Bert Ayres