30 Years of Service
John Williams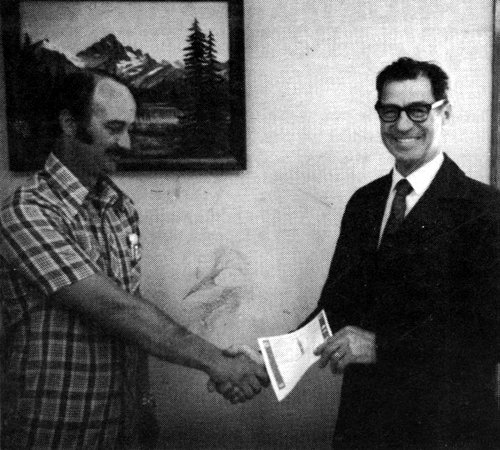 John Williams, Lindbergh Works Manager, retired on September 1, 1980 after 30 years of service.
Mr. Williams attended the University of Alberta where he graduated with a BSc in Chemical Engineering. He joined the Company at Lindbergh on July 1, 1950 as a Project Engineer. In 1953 he was transferred to the Windsor Office where he stayed for the next three years. In June of 1956 Mr. Williams was transferred back to Lindbergh as Works Manager.
Mr. Williams was instrumental in developing the many gas wells that allow Lindbergh Plant to be gas self-sufficient. A total of 32 wells have been drilled during his tenure including 15 productive wells and 17 abandoned wells. He considers this part of his career his greatest accomplishment and contribution to the Company.
He is looking forward to his retirement when he will be able to complete the woodworking projects that he has started, and to dig -into his flower gardening a little more; John and his wife Bea are also looking forward to doing some extensive travelling.
Our best wishes to John and Bea during their retirement years.
It is Alberta's 75th Anniversary this year — What better time than now to delve into a little of our own history at Canadian Salt's Lindbergh Works.
Through the recent interview I had with Mr. Williams I was able to compile a small portion of our history covering the period of his 30 years with the Company.
In the early 1950's there were four grades of fused salt compared to the eighteen grades we now have.
The number of employees at Lindbergh in 1950 were five office staff and 50 plant employees compared to the present staff of 25 and 79 plant employees.
Road travel was very poor during the 1950's and 1960's. A time span of one hour was involved for a truck to travel from Elk Point to the Plant at Lindbergh a distance of 10 miles; therefore salt shipments were made by train until the mid 1960's.
The 1950's included the addition of a second furnace to double the capacity of fused product to 60 tons/ day, the first extension of plant buildings, and the first electric typewriter (hallelujah).
During the sixties the third brine well was drilled, evaporators were re-tubed to double the heat area allowing for production to double to 250 tons / day, the fused plant was expanded, and a truck scale was installed.
Growth during the seventies included paving of the plant yard, addition of the third furnace, replacement of no 1 evaporator and the addition of no3 evaporator which increased production from 250 tons / day to 360 tons/ day which is the present level of production. With the increase of production, storage sheds were purchased and the size of the Bulk Coarse shed was increased to 10,000 tons.
Undoubtedly the growing process will continue with all of the "Salters" witnessing and growing with the Company.
Ken Palamarek appointed
Lindbergh Plant Manager
Effective September 1, 1980 Ken Palamarek became the Lindbergh Plant Manager, succeeding John Williams who retired after 30 years of service with the Company.
Ken joined Canadian Salt in 1966 as Plant Engineer in Lindbergh. He transfeerred to the Ojibway operation in April, 1974 as Project Engineer and returned to Lindbergh in August 1975 as General Plant Superintendent and was promoted to Assistant Plant Manager November 1, 1976.
Ken is a Mechanical Engineering graduate of the University of Alberta. Ken, his wife Joan and three sons, Michael, Malcolm and Murray live in Elk Point. Best wishes on your appointment Ken.