Adapted from information in Reminising Ferguson Flats:
The first building on the present Lindbergh town-site was John Palynchuk's store, built in 1927. This store served the community for a year before the railway came in and the town began to develop. Men of the district had worked on survey crews and helped lay steel for the railway.
Schools
Moose Creek School (later, 1935, moved to be Municipal Office run by Tom Johnson). One room School at end of main Street. Later another room added. School moved in about 1958 to building now the residence of Ed Gregoraschuk
Elevator
The United Grain Growers elevator was being built. In 1928 the first train arrived. That fall the first grain was weighed in at the new elevator by Charlie Carlton, first elevator man. The elevator men were Charles Carlton, Ray Caruthers and Ted Magnusson.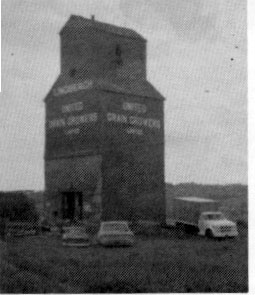 Lindbergh grew rapidly now. Eddie Davis moved his store and post office to the new location. Mooswa disappeared and the post office became Lindbergh. So named for Charles Lindbergh, who made his historic flight over the Atlantic in 1927.
Churches
The Catholic Church on the hillside at the north edge of town was built in early years by Mr. Joseph Keller. It stood there as a landmark until very recent years when it was torn down and 'removed from the premises. An early backer was Barney Honikey?Another church, now residence of Ross Morris, was built by Ernie Schultz.
Halls
Red Carrier had a pool hall, barber shop and coffee shop in a building which served as a dance hall too, when needed. His residence was nearby. John Maxwell lived there for a time. Later a community hall was built.
Hotel
George Henry began erecting a hotel but construction was halted when he had an accident while working on this building, and died soon after. The hotel was at the end of main street across from the garage (where roads meet near playground). The hotel did operate for a time although it was never finished. Vic Ramsbottom had supplied lumber so it became his. He married Faye Henry (George's widow) and tore down the  hotel to build a house (Later where Harvey Dunham lived). His children Vic Ramsbottom Jr. and Ella were joined by two new children from this marriage Eugene and Jeannine. The Hotel did operate for a time although it was never finished.
Linbergh's Businesses
Leo Edwards had a livery barn in Lindbergh. The Imperial Lumber Yard and hardware store was managed by Vic Ramsbottom. After Vic Ramsbottom, the Imperial Lumber Co. was managed by Jim Macivor, Royal Wilson and then Harold Tomjum. There was a blacksmith shop, a railway station, house for the section foreman and several other residences. Sidewalks were built along Main Street. Then came Sweheim's store and garage, operated by Hardy Lawrence and John Peacock. It was later purchased by Jim Young and Melvina. Doris Sawchuck worked there for many years. Sweheim's store was bought by Jim Young and is still owned by him. Eddie Davis had small apartments attached to store?? Elaschuks, Krissas and Vernon Magnusson all lived there for a time. As time went on Palynchuk's store was sold to Fedyks, and later to Karl Heinemann and he ran it until the time it closed completely. Palynchuk's children were Mary, Alex, Polly, Metro. Theirs was the first store in Lindbergh.
The garage was taken over by Clarence Hoard, and later was torn down and moved elsewhere, as living quarters. The blacksmith shop changed hands and was run by Seminiuk and Penerowsky at different times. Penerowsky ran it first, then Seminiuk who moved to be an instructor at the blacksmith school in St Paul run by the St Paul Foundry. Bob Poitras later built a small blacksmith shop but that, too, has long been vacated.

Mr. Sharek and Joe Lacrosse both had small grocery stores here but didn't operate them very long.
Pete Michikota had a grocery store and pool hall which he ran for several years, but in the 1950's it burned down.
It is difficult to pinpoint the beginning of the decline of this little town. Businesses closed down or moved out. Improved roads enabled people to go to larger centres for their buying. Today there is little left except a post office and one store. The school is closed and the elevator has been torn down.
However, most of the homesteads which were cleared and settled some sixty years ago are now fairly prosperous farms. Many of these farms are owned by homesteader's sons, and grandsons, who have carried on from the humble beginning of their parents to the modern farms of today.