RIVERVIEW REVIEW
Holiday season is here again and again Lindbergh plant employees are scattering all over the map.
Recently on holidays were:
P. Maslak, M. Sheplawy, H. Grauman, H. Sutton, J. Lacrosse, A. Fakeley, P. Smerchinski, W. Cameron, R. Carbert, D. Keck, V. Magnusson, T. Longul, W Lesyk, C. Nelson, G. Anderson, L. Young, L. Lorenson, J. Jendruck, E. Gessner, J. Zaraska, T. McLennan, A. Wyness and R. Seal.
The Bowlby family flew to Ireland and England to visit relatives not seen for many years.
Blain Lungul and James Wyness left Company employment to work in the north. Blaine Berg left to join the R.C.M.P.
A welcome to the Richardson family who recently moved to Riverview townsite. Mr. Richardson is the plant engineer.
Miss Joanne Miller has begun part-time and holiday relief work in the office.
New employees in the plant include Gordon Fakeley, Robert Holliday, Don Wyness, Barry Roberts, Allan Holoboff and Kenneth Pinder.
The new crew of girls in the dairy mill packaging pickling salt are Lorraine Seal, Linda Krissa, Virginia Pankiw and Leslie Austin.
With a new car, a new boat and motor and a new lake cabin coming along all at once, no wonder J. D. Williams is wearing a pleased look.
The latest word in the VW department is that Erny Schulz now has some reservations about "puddle jumpers".
Glad to see Gerald Stults in better shape after that accident.
New cars in evidence include units owned by Mike Pelech, Raymond Hammond and H. Richardson.
The annual Children's Picnic was held on June 23. Looked like all the young ones really enjoyed themselves and had enough refreshments to last awhile.
We see the local experts at the art of horseshoe pitching are practicing fairly regularly. Doesn't look like it's doing too much good, though.
On May 25th, 1963 St. Paul's United Church, Edmonton was the scene of a pretty spring wedding, when Gayle Williams, only daughter of Mr. and Mrs. John Williams of Elk Point, became the bride of Mr. Kyle Kunnas. Following a honeymoon trip to the Pacific Coast, the happy young couple are making their home in Edmonton.
Congratulations and best wishes to newlyweds Mr. and Mrs. W. Cameron (nee Faye Anderson) and Mr. and Mrs. K. Kunnas (nee Gayle Williams).
Keith Williams attended the 3rd Alberta Scout Jamboree held at Sylvan Lake, Alberta during the first week of July. Eighteen hundred boys were in attendance with representation from eight countries. He reported a very fine week.
—E.H.B.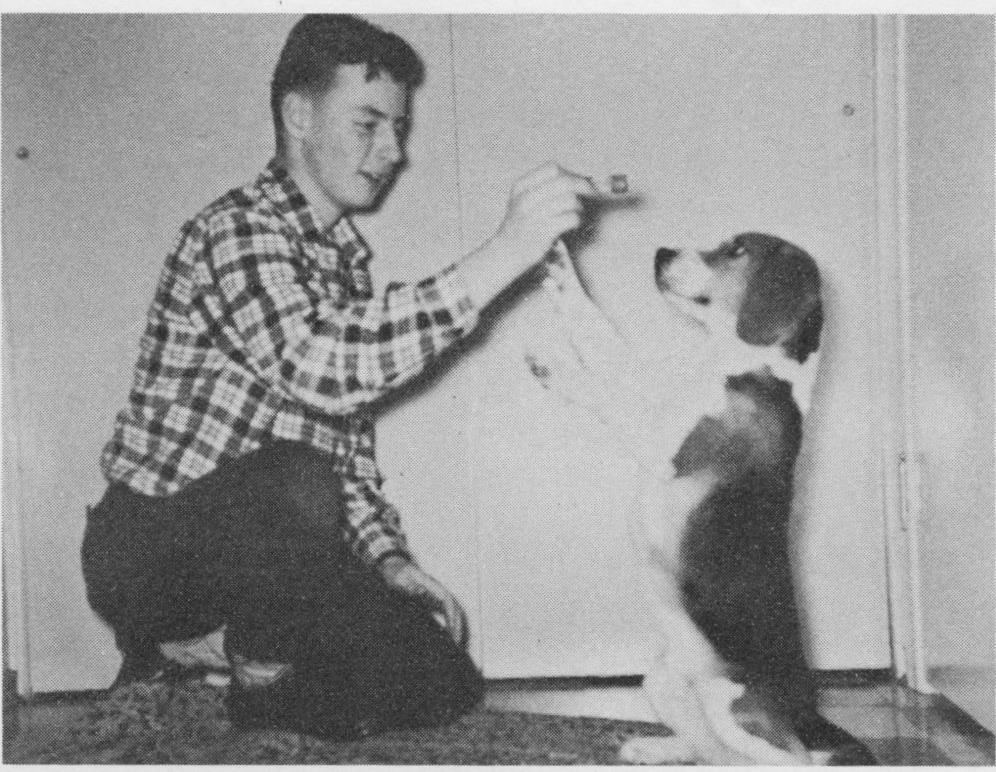 Keith Williams and pal, Duke.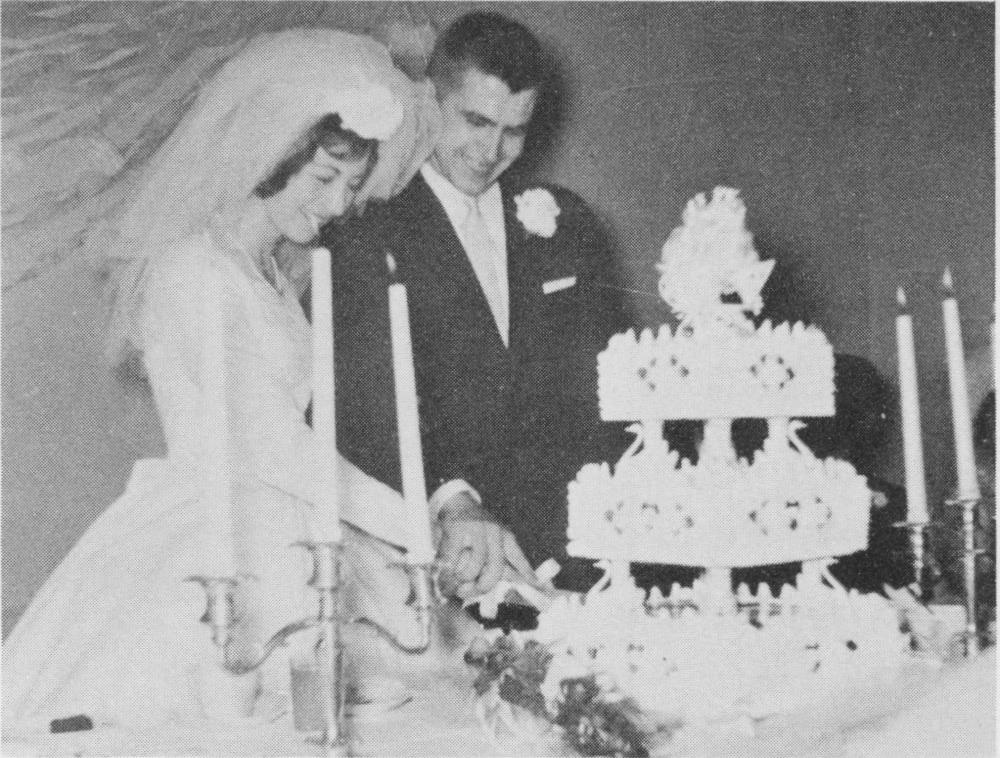 Gayle and Kyle Kunnas, cutting the wedding cake.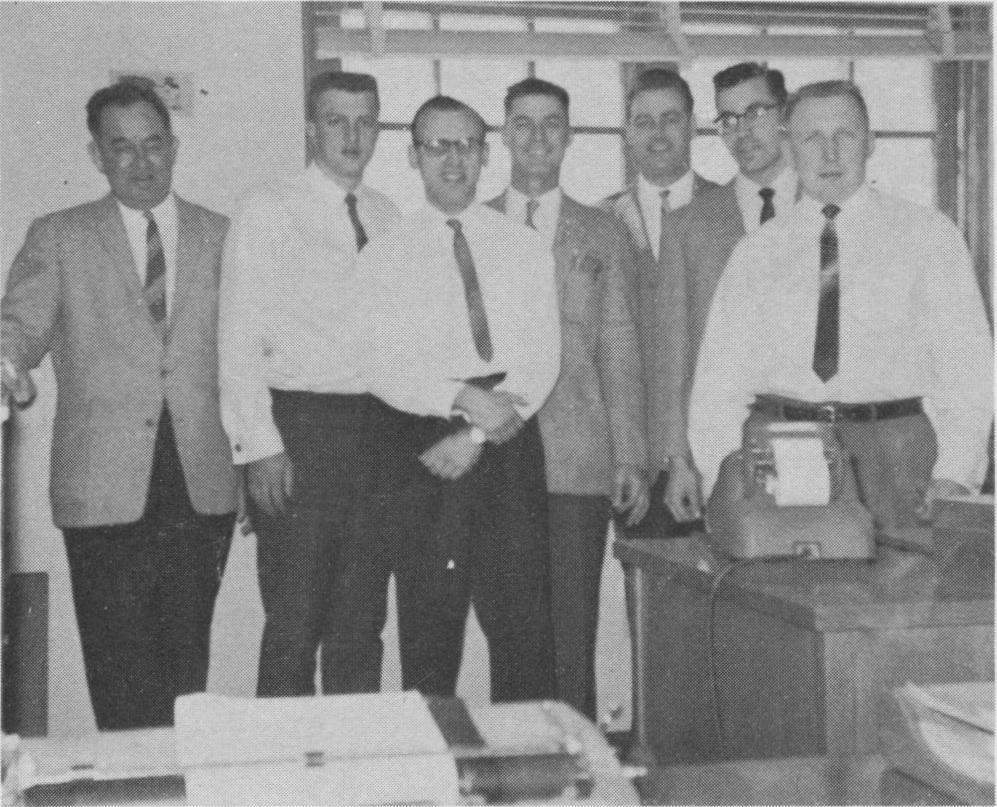 The elite at Lindbergh Works.
L. to R.: T. R. McLennon, 0. J. Cap jack, E. D. Schulz,
J. D. Williams, Tom Melnyk, T. W. Holliday, E. W. Pankiw.