In June 1950, a new company, The Canadian Salt Co. Ltd., was formed. Mr. H. Milner, who had a controlling interest in the Lindbergh Salt Plant headed the new company. It purchased the salt business of C.l.L. in Windsor and the Alberta Salt Company, and they began to use the Windsor brand name. ln 1956, Mr. John D. Williams became the new manager and has held the position to the present time.
In 1967 the plant expanded its facilities to produce 240 tons of salt per day. In 1973, further expansion was carried out and the plant can produce 360 tons of salt with 60 employees at present. There are about 34 kinds of salt produced here and distributed throughout Western Canada.
In 1949, the Lindbergh salt plant developed a unique fusing process, the first of its kind anywhere in the world. Today, the plant produces 120-130 tons of fused salt daily, used mostly on our highways, softeners and in packing processes. The salt plant has had to overcome several disadvantages for its location in this area, especially the isolation from main markets and the incomplete railway east of Heinsburg. Now most of the salt is freighted out by truck, which is more efficient. However, the availability of cheap gas here has offset any extra cost involved. Incidentally, a large amount of the gas used here is piped from the wells in the Ferguson Flats district.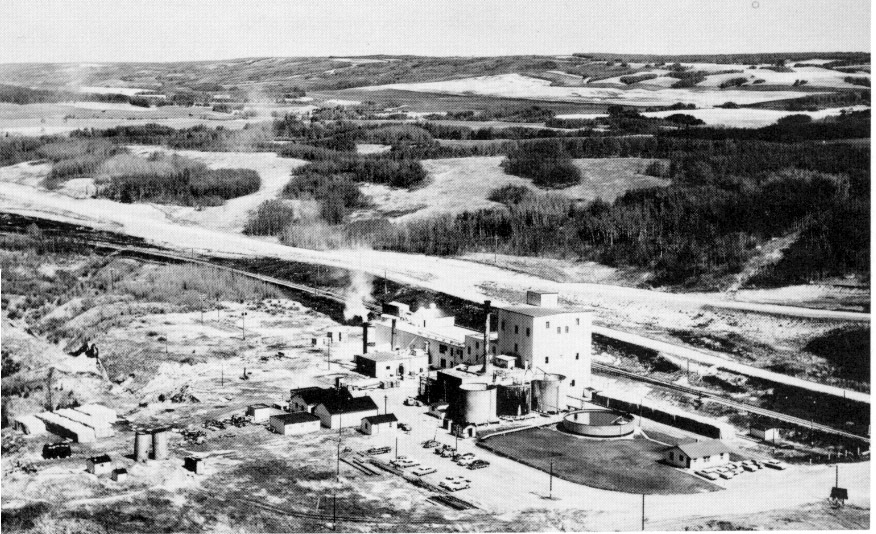 The Canadian Salt Company at Lindbergh, Alberta shortly after it was officially opened.
It is very obvious what effect an industry of this size can have on the economy of the surrounding districts. It has provided employment for many local people, enabling them to remain on the farms and work here. It has been an economic asset to local businesses and is the county's largest taxpayer. Aside from economic value it has been a point of interest for visitors from everywhere. Large groups of students come each year from various parts of the province to tour the plant. They are impressed with what they see and Lindbergh and its salt become more meaningful.
It is at present a very progressive industry, whose future appears very bright and according to Mr. Williams, there is enough salt beneath us to supply all of Canada for over 200 years. We are, therefore, most fortunate that an industry with this potential was established here as all, directly or indirectly, have derived some benefit from its development.