LINDBERGH IN THE LIMELIGHT
CONGRATULATIONS TO THE PROUD PARENTS of a baby girl — Sheila and Ronnie Lorenson. Ronnie works in the Shipping Dept. and Sheila is a former packaging gal. ONE OF OUR YOUNG TOWNSITE MEMBERS, Josephine Young — had the misfortune to fall and break her leg. She's on her way to recovery now though and manages quite nicely on her crutches.
BELIEVE IT OR NOT — Spring is lust around the corner! Several crows and a couple of gophers were seen the other day and the snowbanks along the roadsides are rapidly disappearing. The snow in most places is not much over 6 ft. deep now so that should be a good sign.
SINCE THE FIRST ANNUAL MIXED SPIEL HELD BY THE WINDSOR CLUB all local residents of Lindbergh and District have been kept informed of latest weather conditions. The reason of course being that one of the prizes in the Spiel was four lovely barometers. They are very accurate too, I might say!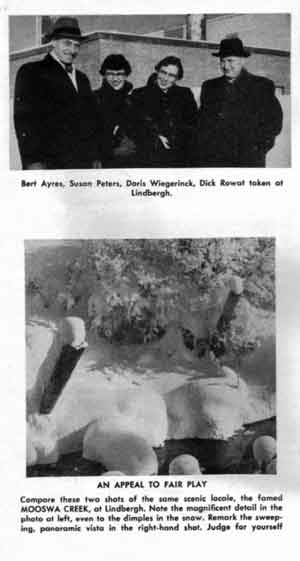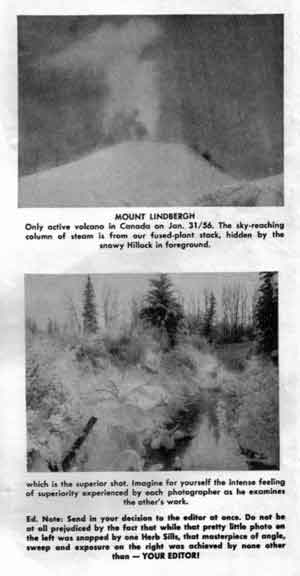 LINDBERGH'S "WINDSOR" CURLING CLUB
HOLDS FIRST ANNUAL MIXED BONSPIEL During March 15th, 16th, 17th, 18th, and 19th — five gloriously busy days — the Windsor Club held its First Mixed Bonspiel. The intention is to- make it an annual affair, and to judge by the tremendous interest shown by participants and non-participants alike it is almost certain to be perpetuated.
All in all some 24 rinks or 96 curlers participated, reinforced by countless "behind the glass" curlers. They came from all directions — from near and far. They came by car and truck, by tractor and sleigh, on foot and on horseback. Our usually quiet townsite was filled to overflowing and the streets were jammed from 8 o'clock in the morning 'till well after midnight. The five o'clock traffic at Ouellette and Wyandotte in Windsor or Main and Mountain in Neepawa appeared tame by comparison.
Excellent prizes, donated by merchants and industrial firms in the district, were on display under brilliant spotlights in the Recreation Building which was appropriately decorated in "WINDSOR" colors for the occasion. The first prize of the first event was four cocktail rockers donated by the Company. Beautiful carving sets, thermos jugs, steam irons, beach bags, barometers, stainless steel fry pans, etc., etc. added sparkle to the display and incentive to the game. Advertising and displays by district merchants, car and lumber dealers helped to make the Spiel a bit different by giving it somewhat of a "Trades-Fair" atmosphere.