RIVERVIEW NEWS
Rain, Rain and more Rain. Lindbergh is now known as: "The Land of Many Lakes".
Hammy Oliver reports that a weather forecast from CJCA Edmonton went as follows: "Scattered showers in forenoon, clearing at noon, showers in the afternoon."
Best wishes are extended to Steve Kalynchuk, loader, and Sylvia Steele, who were married on August 1st.
Lila Sharkey, dairy mill, and Laverne Wilson were married on August 21st. Laverne and Lila plan to reside in Heins- burg, where Laverne will continue teaching. Much luck to both of you.
Congratulations to Mr. and Mrs. Joe Lacrosse, on the birth of their daughter, Cindy Lou.
We are sorry to report that Marion Lorenson, a very welcome personage these past two months, will be leaving for Walla Walla, Wash., on September 10th. Marion plans to complete her second year of university.
SERVICE PINS
G. W. Bowlby — 5 year pin — July 5, 1959
E. L. Hodge   — 5 year pin — Sept. 5, 1959
We are happy to hear that Howard Austin, who was hospitalized August 16th, will be home in a few days.
Lindbergh Dynamos, a first year entry in the North Eastern Alberta Baseball League, completed a most successful year, due mainly to the large attendance at their home games.
The team ended the season in fourth place, losing to St. Paul in the semi-finals. An impressive showing for a first year club.
It seemed that fishing had become a sport of the past, until a few sportsmen(?) braved the cold nights and returned with a good catch.
Cal Cundliffe, Herb Sutton and Dean Stults reported good fishing at Murial Lake. And — something that doesn't happen too often — they brought home photos to prove it!
RIVERVIEW'S DIDZ OR DIDZN'TS:
Frank Reintjes hired a saddle horse for transportation to the gas wells.
Cal Cundliffe has been gifted with an out-door swimming pool.
Hammy Oliver visited Elk Point and did not have a g-r-r-rand afternoon!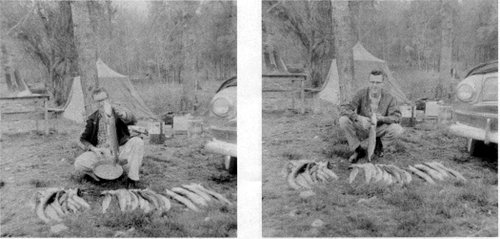 1. Cal Cundliffe seems to have the right idea, but why the purchase of ten cans of beans?
2. By the smile Herb Sutton is flashing, cleaning the fish had not been mentioned.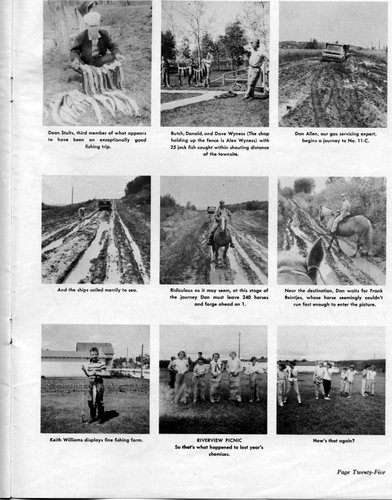 All this for a nickel!

Three-legged race contestants,
under sharp supervision of A. Wyness.

DINNER AT THE WILLIAMS
L. to R.: A. Wyness, G. Krissa, M. Baitie,
J. Mair. In case you wonder what's stump‑
ing the experts, it's a wire puzzle which,
it says on the box, "Even a child can do".

                         L. to R.: Mrs. Baitie, R. Seal, Mrs. Seal,                              Same party: T. R. McLeannan, Ingrid
                        J. Mair, R. Hooper.                                              Reintejs, Mrs. Reintjes, Frank Reintjes,
          Marvin Bartee.