It's all over but the shouting, or are those moans and groans caused by too much turkey and too much "Nectar of The Gods", as Herb Wyness calls this evil stuff that comes in liquid form?
New Year's resolutions have been made and broken already. Seems Herb and Cal quit smoking. Lately we haven't been able to see them for smoke.
Our children's Christmas concert was held the Friday before Christmas and was quite a success. The children performed well, sang sweetly and could be considered little angels — that is until "Santa" arrived. From his arrival to his departure, it was a free-for-all. Shortly after all the gifts had been opened and compared, some of the ladies managed to get the youngsters settled down in order to serve ice cream and cookies. After the short time it took to make the refreshments disappear, the youngsters went home loaded with candy bags and gifts. When all the candy bags had been given out, there was one left over. Asked if there was anyone who didn't get a bag, one small hand went up in the back row. Naturally, the candy bag went to the fellow in the back row. Soon however, there was quite a scramble over this bag, and I noticed five boys trying to get their share of the contents. These weren't little boys though, they were Bob Lorenson, Nick Elaschuk, Ken McGinnis, Herb Sutton and Cal Cundliffe. I think Nick put his little boy's hand up, but I doubt if the little fellow got anything out of that bag.
The ladies responsible for making the concert a success were Lily Seal, Vera Fakeley, Bea Williams (between trips to Windsor) and one of the Apostles.
The Local Union held a Christmas party for children and parents on Dec. 13th. After Santa arrived loaded with gifts, and refreshments were served, Elmer Bjornstad showed some movies taken around the townsite and district. I hear the parents enjoyed the afternoon as much as the kiddies. Thus we know that Nick and the boys planned a fun packed afternoon for all.
On December 20th, the older folks gathered at the curling rink for their annual Christmas party, which I hear was quite a success. The grapevine tells me that the party broke up in the wee hours of the morning. Why be party poopers? Let's keep the party going so graveyard workers can jointhe fun when they get off shift. Doesn't look like anyone took pictures of the "do". At least no one has given me any,
or left them on my desk. Could be a reason for this, as there's no sign on my desk that says "Associate Editor". Was glad to hear they had a good turn out as well as a good time. Music for dancing was supplied by Herb Sutton, Alice Young, Cal Cundliffe, Doug Keck and Adeline Otto.

1. Digging into candy bags and eating ice cream are the best part     Jack Williams, presenting Ernie    Uncle Bob (Donnie Wyness) and
of the evening.                                           Better (fused plant operator)     Aunt Jenny (Josephine Young)
      with a 15 lb. Christmas turkey.          on their first trip to the city.

Miss Moneybags, entering street       Some passengers on street car.       Looks like Denny Lorenson, left, and Garry Fakeley, center, are    car in the Christmas Spirit.                                                                      about to have a duel, while Johnnie Lorenson says, "Where's your
      Christmas Spirit?"

These little ladies busily opening their gifts are Sharon Maslak,           Part of the crowd at the concert.   Still more of the crowd.
Lorna Bjornstad and Carol Maslak.

This is not a taffy pull. The object      Admiring the new baby sister are    This pretty little miss is Ingrid Reintjes, who looks well pleased 
of the tussle is Bea Williams'     Herman and Ingrid Reintjes.         with the goings-on. To right is her brother, Herman, who seems 
chocolate cookie.                      Too bad Mamma doesn't show up           to be finding out what makes his new toy tick.
more clearly.
RIVERVIEW NEWS
Looks like our community is getting more sports minded again, and I don't mean curling. Curling is a sport (?) th t's hard work. For three years now, the only sport we've had is curling and more curling. Although the entries aren't as numerous this year as in previous years, the interest is still quite keen. This excludes the writer and a very few more, and it's a good thing as I'm afraid our curling club bank account wouldn't be collecting much interest. But the majority still love to curl and they come out in 40° below weather.
This year, however, we can be a bit more broad minded about sports. By this I mean people and business concerns who are opening up the purse. The Lindbergh community has formed a senior Hockey Club, most of the players being employees or sons of employees. A lot of these employees also have smaller sons, so what to do with them to keep them out of mischief? Form a Pee Wee Hockey Club. This being the first year for both of these clubs, there is a great need for equipment and uniforms. The boys say they'll advertise anything on the backs of their uniforms, from Red and White and Imperial Esso products to every type of Windsor salt that's made. All this free advertising (if you can call it free) for a little support from some of our local business concerns. Both these clubs are in leagues, so we can expect to see lots of hockey action out here this winter. So those of us who can't dig into our jeans, why not get out there and support the teams when there's a game on?
The old skating shack came down, and what we've got there now can't be called a shack. It's a brand spanking new building and is it ever nice — and warm!
The Windsor Club purchased a Pop Cooler and installed it in the plant. We hope to make some extra cash with this machine, or at least hope it pays for itself. How's it doing in this 45° below weather, Mr. President? The club also purchased a piano, which we make good use of for our church services.
The Lindbergh crew was a happy lot on November 24th on completion of our safety objective, namely "The Board of Directors' Prize." I've said it before and I'll say it again, Credit is due mostly to the guys and gals who work in the plant. I might add, we are very proud of them. If it wasn't for their safety-conscious attitude while on the job, we wouldn't be looking forward to another accident free year and our next objective, "The Canadian Salt Company Prize." Sorry I can't send pictures for this issue. Our presentation was late due to Christmas, etc. But we wish to warn the Editor — next issue will have lots of pictures, say about enough for four pages?
Our paymaster, Herb Wyness, never looked so sad when giving an employee his last cheque as he did when he handed Arlene (his spouse) hers. Ah well, Herb, maybe some day you'll have a son to bring home an extra cheque.
We extend a warm welcome to Josephine Rustek who is taking Arlene's place in the Dairy Mill. Josephine is a native of Lindbergh.
Pat and Pauline Maslak, who lived on the townsite for eight years, recently moved into their new home in Elk Point. Wonder where the ladies will keep the soup hot during the bonspiel, now that Pauline's not around. 
Frank and Hennie Reintjes are the proud parents of a baby girl, born on November 19th.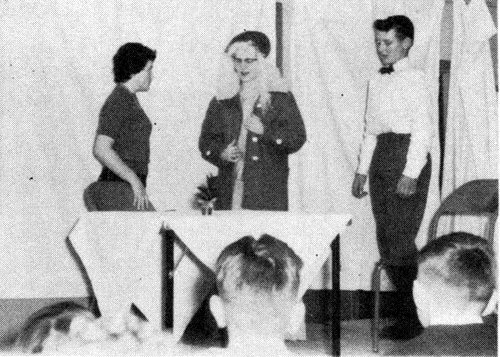 A scene in "A Mouse to the Rescue" shows Marilyn Krissa, Jose‑
phine Young and Clarence Heinemann. Marilyn and Clarence are
a young couple who live in the city, and here are a pair of
unwelcome guests ...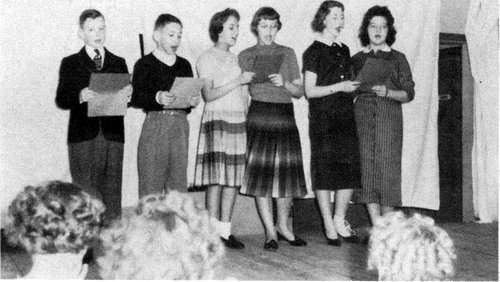 Elk Point group singing "Star of the East" are: Keith Williams,
Robert Merrick, Joanne Lacrosse, Barbara Merrick, Gail Williams,
and Elvina Lacrosse.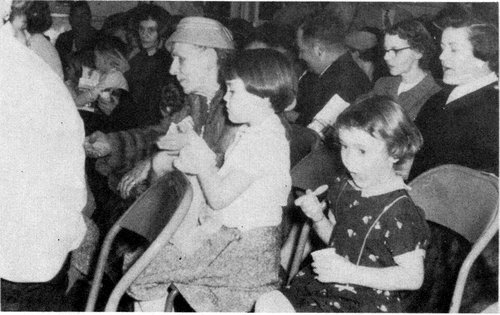 Getting every drip of ice cream off the chin is Freda Krissa.
Note to Elmer Bjornstad: This will serve as notice to start preparing cartoons for next issue.
Mrs. Williams accompanied me on my recent trip to Windsor, to attend the Sales Convention. We took the opportunity while there to visit friends and renew acquaintances and to all we would like to extend thanks and appreciation for their hospitality. To those we missed seeing, our sincere regrets. Our visit was very enjoyable, but all too short. Thanks again to all.
Jack Williams.