35 Years at Lindbergh
George Krissa has started the New Year by celebrating his 35th year with our Company. On January 2, 1983 he was the FIRST of Lindbergh employees to achieve 35 years of service. George was one of the original employees and has been with the Company since the Lindbergh Plant started its initial construction.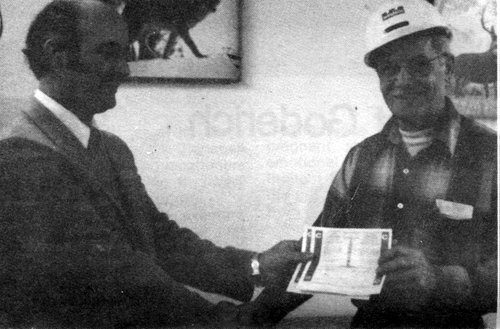 Ken Palamarek presents 2 x $100 bonds to George Krissa
George and his wife Maude have lived on the Company Townsite since 1949, where they raised their family of three daughters and one son. Their three daughters are married, two living in Edmonton and one in Ft. McMurray. Their son is residing in the Elk Point area. They are the proud grandparents of six children.
Congratulations George!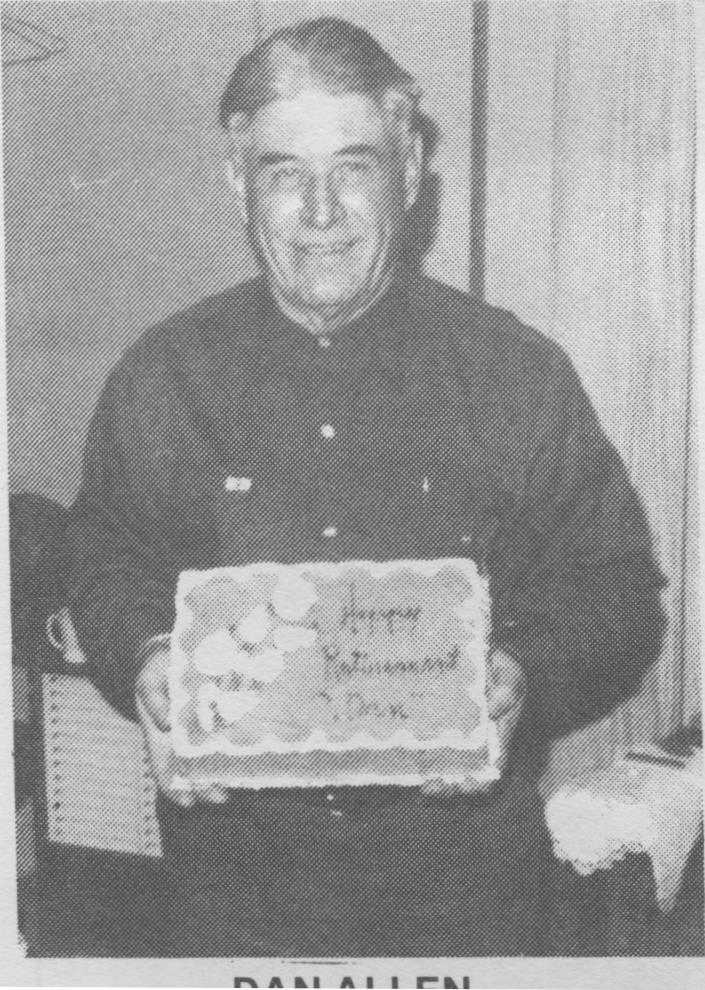 Dan Allen retired April 30, 1982 after 32 years of service. He started when Lindbergh Plant opened and worked in the Fused Plant and the Powerhouse. Since then, he has been employed as well tender, looking after the. Company's gas wells. He plans to do some farming on his farm north of Lindbergh and will continue to live in Lindbergh.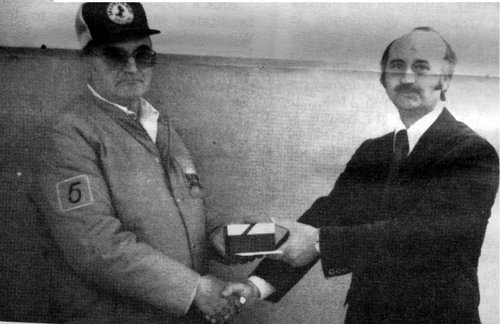 Ken Palamarek (right) Presenting Walter Lesyk with 25 year watch & pin.
Walter is Production Supervisor and in the past has been in charge of Pan Room operations.
The Windsor Club again sponsored three Christmas parties — Teen, Children's, and Adult. A good time was had by all We must apologize for not printing any of the pictures but our camera wasn't operating properly and pictures were too dark.
GOLDEN  SALTERS
I think your idea on retired Salt Workers having a chance to tell their experiences is good. I started work at the Lindbergh Plant June 8th, 1950 as a painter and repair man.
Alex Wyness, our foreman, asked me if I would like to operate the block press, I said I would do my best and stayed on that job until January 31, 1968. Two months before I retired our foreman, George Krissa, came to the press room late on a Friday afternoon and said "we just got a call from Vancouver for 2,000 plain white blocks, rush — and we only have 13 on the floor." Saturday and Sunday were my days off. George said "I asked the young fellows who could operate, but they said we have a date to go dancing." So, I told George, "I will come in the morning and make as many white blocks as I can," and so I did.
I started at 8 a.m. on Saturday morning and operated until 8 a.m. Monday morning with only regular stops to have lunch. My biggest problem was 3-4 a.m. to keep awake. So I would go outside for ten minutes or so to get fresh air. It was quite cold at that time of year. I just seemed to wake up and continue. By Monday morning I had made enough white blocks so the loaders could get the car loaded for the train. I made 50 extra in case some were broken. Why did I do this? Well, our foreman and manager were good to all the employees and if you wanted to keep the press as well as the pans going, it was your duty to help fill every order.
August J. Bartling
Edmonton, Alberta