LINDBERGH
By: Jane Dikeman
The Elk Point WINDSOR MIDGETS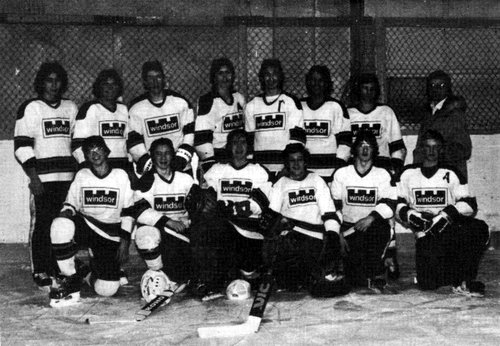 (Left to right — back row) David Sparks, Malcolm Nowosad, Jimmy Vinge, Jason Jenner, Mike Palamarek, David Nazarchuk, Willie Lesyk, Coach Lloyd Metz
Front row — left to right:  Lane Lorenson, Murray Palamarek, John Charlton, Dwayne Wolanuk, Malcolm Palamarek, Mike Boratynec.
The Elk Point Windsor Midgets proudly display their new hockey jerseys which were contributed by The Canadian Salt Company — Lindbergh Plant.
Among some of the teams' accomplishments this season, was the winning of a gold medal at the North Battleford Annual Midget Tournament held in December, 1983. They also won a gold medal at The Alberta Winter Games which were held in February, 1984.
The Windsor Midgets advanced to the Provincial Finals, which were held the last week in March, where they placed fourth.
Six of the players are sons of Canadian Salt employees: Mike, Malcolm and Murray Palamarek (sons of Ken Palamarek — Plant Manager), Jimmy Vinge (son of Jim Vinge — Fused Plant Operator), Jason Jenner (son of Lloyd Jenner — Millwright) and David Sparks (son of Bob Sparks — Security Officer).
Trees Laden with heavy frost sparked the camera enthusiast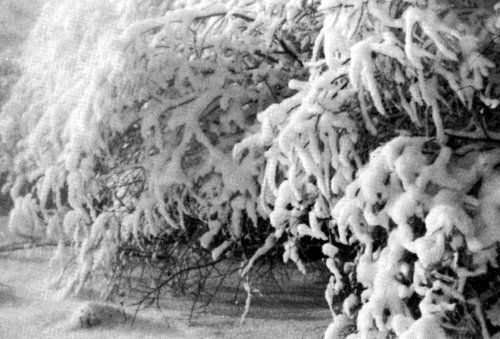 Near gas well. Frost on branches is approximately 2 inches.
Gordon Fakeley, our Well Tender, started carrying his camera when the December frost was at its heaviest. The beauty of the frost had to be seen to be appreciated. Gordon submitted this snapshot which shows the trees bending to the road surface. The frost was so heavy that wire fences appeared to be pole fences. The weigh of the frost broke many trees, branches and power lines.
SERVICE AWARDS
Grace Meger             5 year brooch           February 1, 1984
 Alex Wyness            5 year pin                 March 1, 1984
Adam Smereka           10 year pin            March 13, 1984
Jane Dikeman            10 year brooch        March 18, 1984
Gerald Poitras          10 year pin             April 9, 1984
Del Smith                15 year pin            February 11, 1984
WELCOME!
Lindbergh welcomes two new Security Officers on March 11, 1984 Security Officers; Mike French and Brian Goertzen have been hired as and May 1, 1984 respectively.
Best wishes on your new positions!